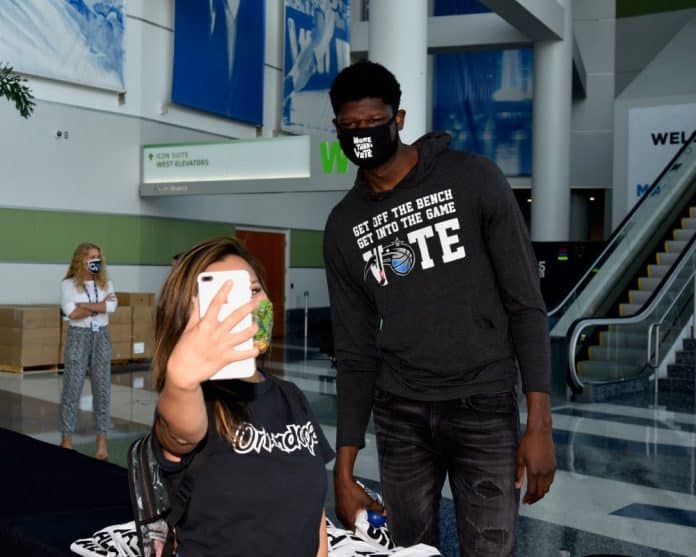 When the Orlando Magic returned to action in the Disney bubble to close out the National Basketball Association's (NBA), all of the players except Jonathan Isaac took a knee during the national anthem.
The players and coaches wore Black Lives Matter shirts and the NBA as a whole promised actions to promote social justice. The season is over for the Magic after being knocked out of the playoffs, but its players are following through with their promises, making a major effort to push people to the polls.
The effort is called "Get off the Bench, Get into the Game, VOTE" and has the full support of the organization.
"You're going to see a very proactive and very public message from the Orlando Magic through social media and other mediums communicating to everyone in Orange County to register to vote here in the short term, and then to get out and vote during the early voting period or on election day," Magic CEO Alex Martins told the media as the team, the city of Orlando and Orange County announced the Amway Center would be an early voting site.
The Amway Center will be open 12 hours a day for 14 straight days beginning October 19 when early voting starts in Orange County.
Orange County Mayor Jerry Demings applauded the players for their efforts in encouraging voting, pointing out he has children and five grandchildren who all watch the NBA.
"They watch the players. They watch how you behave and what you stand for, so you serve as an inspiration to many of our young people around the globe and certainly to those in my own family as well," Demings said.
The NBA's push for voting rights came out of the Disney bubble.
Magic Coach Steve Clifford told the media that it was a wake-up call when L.A. Clippers Coach Doc Rivers, himself a former coach of the Magic, addressed the players the day after Milwaukee boycotted its playoff game against Orlando.
"Doc Rivers gave a powerful speech to everyone and explained to the players that in 2016, only 21 percent of our players voted," Clifford said. "We're in a different place now but, since then, registration on NBA rosters is now sky high and I would dare to say that a much larger percentage of our league will vote this time."
Clifford's made several appearances in support of social justice efforts by the team.
"It's important because to get the kind of positive, sustainable change that hopefully, everybody wants, it's not going to happen overnight," Clifford said. "There's nothing more important than educating yourself about who the candidates are, what they stand for and what they'll do if we vote them into office."
The Magic took part in National Voter Registration Day events where Clifford was joined by Mo Bamba, a center for the team. For Bamba, the current crisis was brewing long before the pandemic and the killing of George Floyd.
"This was something that I've been pushing for way before. Voting is the most American thing you can do for a democracy to work. I learned that at a very young age in elementary school just voting for class president, and it is just something I want to push for," Bamba said.
Over the summer, Bamba visited with his 18, 19 and 20-year old cousins and talked with them about voting.
"My message is going to continue to be the same whether if it is trying to get them to see voting as a cool thing, or even an obligation, but it is important,"  Bamba said though he added that he refuses to tell anyone how to vote.
"It's to get out there and vote," he said about his message. "It's get out there, educate yourself and vote.
"Oftentimes, people ask me who are you voting for, are you pledging for one person or another and I tell them the message isn't necessarily who to vote for, but it's just to get out there and vote," he continued, saying he is using what he has.
"I'm not a politician. I'm not really into politics, but I…fit in learning as much as possible about current events and what is going on in the world, and doing what I can to be the change leader and see how I can impact it. Quite frankly, I have a platform, and I just want to use it the right way," Bamba said.
Now that the Magic has helped people register to vote, the team will continue to encourage Floridians to cast those ballots. The Magic are teaming up with vote.org, a nonpartisan group, to assist voters.
Reach Mike Synan at mike.synan@floridadaily.com.
Latest posts by MIKE SYNAN
(see all)