stephanie murphy

-

search results

If you're not happy with the results, please do another search
On Thursday, sophomore U.S. Rep. Stephanie Murphy, D-Fla., wielded the gavel in the U.S. House, becoming the first Vietnamese-American to lead the chamber as she served as speaker pro tempore. 
With her new assignments in place, Murphy said she planned to help her Central Florida district. 
Murphy and her office insisted raising the minimum wage would benefit Central Florida. 
With her party now controlling the House, Murphy becomes the only Florida Democrat on the Ways and Means Committee and the first one to sit on it in almost a decade. 
Finishing up her first term in Congress, U.S. Rep. Stephanie Murphy, D-Fla., had a successful 2018 and is increasingly one of the more prominent members of the Florida delegation despite her lack of seniority on Capitol Hill. 
The Central Florida Democrat, who is Asian-American, will be the first woman of color to lead that organization. 
After Election Day, Stephanie Murphy can feel far more secure about her future in Congress. Murphy offered one of the few bright spots for Florida...
The hotly contested district is generally split between Democrats and Republicans with both parties seeing it as a bellwether of where the nation will go after November.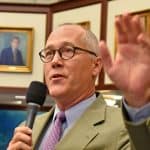 State Rep. Mike Miller, R-Orlando, has run a largely quiet campaign in his bid to unseat U.S. Rep.  Stephanie Murphy, D-Fla., in Congressional District 7 but that's all changing with a new ad that has been up and running for a week. 
President of Boots on the Ground Bikers for Trump George Colella praised Sturgill as "a strong supporter of the president, our Constitution and especially the Second Amendment."