ashley moody

-

search results

If you're not happy with the results, please do another search
At the end of last week, the Florida Highway Patrol made the Attorney General's Office aware of a suspicious-looking page purporting to raise money for the family of a fallen FHP trooper. In less than an hour, the Attorney General's Consumer Protection Division, working with GoFundMe.com, secured the suspension of the page and the more than $500 that had been raised is being returned to donors.
"No one likes doing their taxes, but procrastination is the enemy when guarding against refund scams. File early and avoid giving your personal information out to those who would do you harm. Remember, the IRS will never call you and demand immediate payment. If you receive a call like this, just hang up," Moody said.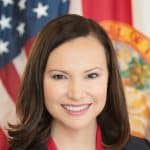 Moody said Florida is about to see increased human trafficking. The key to cracking down on it will be enlisting the public's help.  In particular, law enforcement has been working with truckers. Moody said that interstate highways are the main arteries to bring victims into the state.
"As a former prosecutor and judge, I've learned one of the best tools we have to fight fraud and protect Floridians is to educate consumers so they can take steps to avoid falling victim," Moody said in a video touting the new site.
After taking the oath of office on Jan. 8, 2019, Attorney General Moody quickly went to work to fulfill campaign promises—fighting to end the opioid crisis, combating human trafficking, supporting Florida law enforcement officers and working hard to protect all Floridians.
"According to the International Labor Organization, forced labor and human trafficking is a $150 billion industry globally with an estimated 40.3 million victims worldwide. With Florida hosting multiple high-profile events in the coming months, human traffickers may try to take advantage of the festivities to profit off the pain of others," Moody's office noted.
On Monday, two statewide elected officials spoke at the Human Trafficking Summit in Orlando.
On Monday, Florida Attorney General Ashley Moody warned about an imposter scam spoofing Florida Department of Law Enforcement (FDLE) phone numbers. 
Moody noted that the hurricane devastated the Bahamas but warned about scammers trying to take advantage of charitable Floridians.
Gov. Ron DeSantis created the task force through an executive order earlier this year and named Moody to chair it.