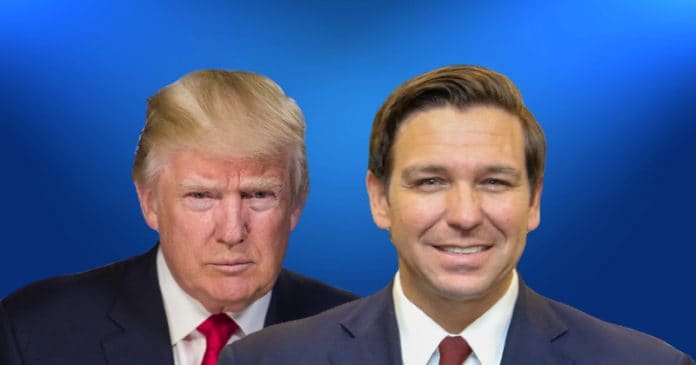 Another member of Congress has called on Florida Gov. Ron DeSantis to challenge former President Donald Trump for the Republican nomination. This time it is Kentucky Rep. Thomas Massie.
Endorsements are not unusual, but the move by Massie could undercut recent Trump attacks that DeSantis was once a "disciple" of "RINO loser" former House Speaker Paul Ryan.
The most outspoken libertarian in the House, it was Massie, not Trump, who opposed Ryan. He was the only Republican to vote against him for speaker, a move Massie worried "would attract the wrath of President Trump" because, at the time, "that's how strongly Trump had endorsed him."
"Go back and roll the tape," Massie told RealClearPolitics, noting how Trump's endorsement effectively quelled all opposition from the speaker's right flank. A perennial thorn in the side of GOP leadership, he tried assuaging the anger of the populist president by cribbing his vocabulary. On the floor, Massie said his opposition stemmed only from a desire "to drain the swamp."
The current Trump complaint that DeSantis was in cahoots with Ryan while in Congress, Massie said, "is a joke." He should know.
Massie was one of the so-called "insurgents" who was regularly at war with Ryan's predecessor, Speaker John Boehner. He recalled sitting at dinner with then-Rep. DeSantis and rejoicing when news broke that Boehner's most loyal lieutenant, Majority Leader Eric Cantor, lost his primary.
"We relished those election results," Massie said. "We were both so excited to see Eric Cantor lose!" He said of his former colleague, a founding member of the conservative House Freedom Caucus, "Ron wasn't a fan of any of [GOP House] leadership."
Perhaps only the most diehard Tea Party member will remember that pre-Trump palace intrigue. They still know Massie though. He was an early and vocal critic of Dr. Anthony Fauci and a consistent critic of massive government spending during the pandemic, which made him loathed in Washington but beloved outside the Beltway. More recently, Tucker Carlson of Fox News suggested that Speaker Kevin McCarthy shore up his right flank by rewarding Massie with plum committee assignments, a move that ultimately helped the California Republican win the gavel.
Massie has stayed in frequent touch with DeSantis since the Florida Republican left Congress. He told RCP that the two were often on the phone during the pandemic and he described the governor, whom he last spoke to on Sunday, as "a very thoughtful person" who is "strong on policy" and "understands how you get stuff passed in Congress."
He isn't under any delusions that the upcoming primary will be a strictly academic exercise. Massie once believed that libertarians like Sen. Rand Paul had a shot at the presidency because of policy.
"But after some soul-searching," he previously said, "I realized when they voted for Rand and Ron and me in these primaries, they weren't voting for libertarian ideas – they were voting for the craziest son of a bitch in the race. And Trump won best-in-class, as we had up until he came along."
How does that rubric apply to the coming primary?
"I know DeSantis can win," Massie said, skirting the question somewhat, "because I've seen him up in the polls just four months ago over Trump in Kentucky, which is Trump Central. He's got a great chance. People want somebody who can drain the swamp."
He chalked up Trump's recent surge in the polls to his legal troubles, what Massie called "unfair persecution." But he added that DeSantis has strong support and "is not even in the race." After Trump-backed candidates faltered in the midterms, he noted that DeSantis' win in Florida "was the bright spot" in an otherwise "post-election malaise."
Why DeSantis over Trump though? While Massie had his differences with the former president, he often voted in support of his agenda. "Trump had a tough job – it's a deep swamp," he replied. "But he did make some mistakes, like hiring the wrong people and keeping the wrong people around too long," Massie continued, pointing to Fauci in particular.
"And these are things that Ron DeSantis will get right."
This article was originally published by RealClearPolitics and made available via RealClearWire.
Latest posts by Guest Columnist
(see all)