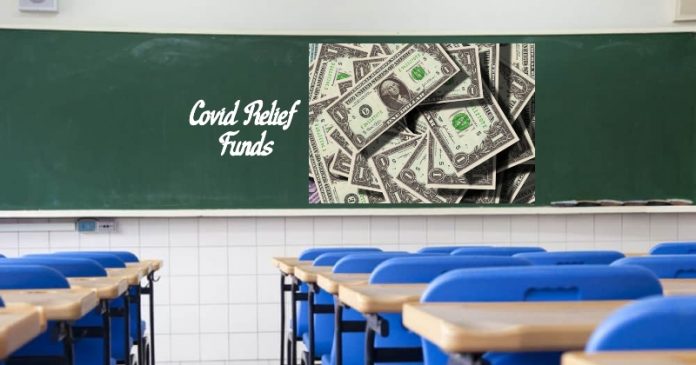 Since the COVID pandemic started in March 2020, federal bailout packages backed by both the Trump and Biden administrations have sent $190 billion to public schools.
School districts have used the money on priorities ranging from COVID safety to boosting employee salaries.
Several states, including Florida, have reported that not every school district has exhausted these relief funds.
"Schools are swimming in COVID money," said Benjamin Scafidi, a professor of economics at Kennesaw State University and a Friedman Fellow at EdChoice.
Scafidi said many schools who have received funds have retained much of that money.
With many schools continuing to sit on these funds, the Biden administration is calling for public schools to look at using temporary COVID funds for "permanent" spending solutions by the end of 2024.
Scafidi called this pressure from the Biden White House on local school districts to be "irresponsible."
If schools decide to spend the temporary COVID money on permanent projects, local taxes might have to be raised.
Scafidi's colleague Marty Lueken, the director of the Fiscal Research and Education Center at EdChoice, said he believes many local governments will have to raise taxes.
While some school districts will spend the money now to help recruit new staffers as they continue to face teacher shortages, Lueken said districts without severe teacher shortages should avoid spending all of the federal funds.
"School districts have a history of hiring more staff with temporary federal funds," Lueken said. "They run the risk of having to raise property taxes when the temporary funds run out."
Some school districts in Florida, including Duval County, have already received millions in COVID funds but they have called for raising the local property tax as they look to attract new teachers and increase pay.
The way to avoid property tax hikes and spending shortages is to promote more school choice, Scafidi and Lueken said. Instead of sensing all of the COVID relief money to public schools, Scafidi and Lueken recommended having the states use the money for more school choice options.
"The fastest and best way to do this is for states and districts to directly fund families and get them more involved in the education of their children," said Lueken.
Other alternatives include districts using the funds to repair buildings and other capital needs. Schools could also use the funds to help with teacher retention and studying how other industries attract and retain employees.
"What school districts generally do not need is to hire extra permanent staff to last beyond this cash infusion. Washington is telling districts to do this despite public school enrollments dropping and the feds projecting their enrollment to drop further," said Scafidi.
Both Scafidi and Lueken warned that when COVID relief funds end in 2024, public schools might have to lay off staffers and teachers.