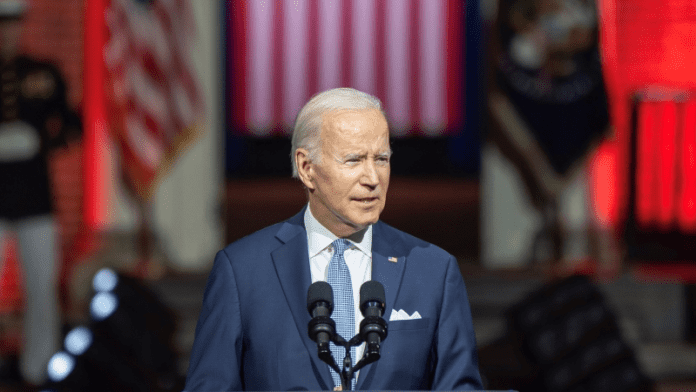 It should come as no surprise that under this administration one of the most vital "independent" agencies is being led by an avowed leftist ideologue intent on casting aside all agencies' traditions and limits on power to advance a socialist agenda. The Federal Trade Commission (FTC), under Lina Khan, has become one of the worst examples of the out-of-control administrative state that ignores the constitution and violates the rule of law to permanently change our free market system.
With oversight responsibilities over consumer and antitrust issues, the FTC has historically been a serious and non-partisan agency. That has radically changed under the current leadership. Khan has engaged in what the Wall Street Journal called a "power grab," muscling through rules changes that strengthened her and marginalized the FTC's minority members and even staff. Khan has continued to push through rule changes and investigations in partisan 3-2 votes.
As Joe Biden assaults conservatives as a threat to democracy, his deep state henchmen are actually destroying it. As Christine Wilson, one of the two Republican-appointed members of the commission said, "[t]he commission, if nothing else, has been revered for its bipartisanship and collegiality. And that has been destroyed in recent months."
As numerous other commentators have pointed out, Khan and her fellow leftist crusaders have cooked up a plan that abandons the well understood and quantifiable agency standard of protecting consumers to a vaguer goal of protecting "the public." This shift allows the agency to pursue Biden's woke agenda, weaponizing yet another agency to transform America. The FTC mission statement removed a longstanding pledge not to "unduly" burden legitimate business activity because they have every intention to burden businesses with woke capitalism at huge cost to American consumers.
Khan has not been subtle in hiding her agenda. In one interview she said she was worried about "underachieving" and that "going too far" and "doing too much" were not a concern, revealing a dangerous mentality for a regulator who plays such a key role in our economy. Our economy and American consumers don't need another overzealous bureaucrat targeting businesses to kill innovation, drive down profitability, and undermine economic growth.
The actions of the FTC under the current leadership have not gone unnoticed or unchallenged. The FTC's Office of Inspector General recently faulted the agency for the use of unpaid consultants. Following up on that report, ranking member of the House Judiciary Committee Jim Jordan wrote to Khan expressing concern about the practice and asking Khan to preserve all documents and communications related to the use of these consultants. Jordan wrote, "[u]nder your tenure, the FTC is flouting federal law concerning the use of consultants and experts…. The internal FTC documents describe how you have improperly empowered these consultants and experts to drive the agency's radical, anti-free market agenda." He added that the floating of this law is not a "harmless, technical violation," but an action that opens the agency to potential conflicts of interest."
The agency's actions are also being challenged in the courts. This fall, the Supreme Court will hear a significant challenge to FTC authority in Axon v. FTC. As the courts have moved to curtail the actions of other out-of-control agencies in recent years, the FTC regulatory overreach will receive serious scrutiny. Just this week, an administrative law judge dealt a setback to the FTC's attempt to block a merger by Illumina, a case many saw as a "test" of the FTC's more aggressive merger policies.
In another significant development, Walmart filed a motion to dismiss a recent lawsuit against them by the FTC in another partisan 3-2 vote for supposedly turning a blind eye to "unrelated third party fraudsters" who used money transfer services in Walmart stores – a case even the increasingly woke Justice Department declined to bring. To their credit, the company's motion defends their action but more importantly questions the FTC's constitutional authority to bring the case. "The complaint relies on expansive legal theories that contravene clear constitutional and statutory limits on its authority, making this case yet another example of FTC overreach," they wrote. Their motion makes important arguments about an agency that has been deemed as "independent" by the courts seeking to assert powers reserved to executive agencies. These are critical questions that the courts – and Congress – must clarify once and for all.
Hopefully these actions will encourage more corporate targets of this sinister overreach by the FTC to push back and challenge the agency's attempts to go beyond their constitutional authority. The ever-expansive administrative state, led by agencies like the FTC (among others) is posing a grave danger to our constitution, our economy, and our freedom.
It's good to see the courts weighing in on Lina Khan's unconstitutional, destructive regulatory agenda. With a new majority after November, Congress must do the same.
This article was originally published by RealClearPolitics and made available via RealClearWire. Rick Santorum is a former United States senator, R-Penn., who ran for the Republican presidential nomination in 2012 and 2016.
Latest posts by Guest Columnist
(see all)