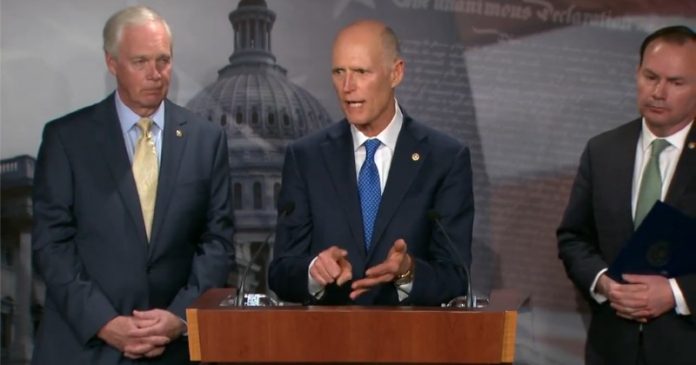 In 2020, to address the COVID pandemic, the federal government spent trillions in various programs to get things moving after helping shut down the economy.
In return, millions of Americans who were deemed to be ineligible for certain government programs were allowed assistance in food stamps and healthcare. The government called it "emergency allotments" to help combat food insecurity.
But now, with the pandemic over, some Republican legislators are calling for people to get off the government dole and get back to being employed.
Leading the charge is U.S. Sen. Rick Scott, R-Fla., who is reintroducing the "Get Americans Back to Work" proposal.
The proposal helps eliminate government subsidies in areas of public housing and reduces the number of Americans on food supplement programs like the Supplemental Nutrition Assistance Program (SNAP).
Scott's plan would require able-bodied adults under 60 years old (with certain exceptions) to get off certain government programs that were increased during the pandemic. The proposal would also establish work requirements for public housing by applying these same SNAP work requirements to the U.S. Department of Housing and Urban Development's (HUD) Public Housing and Tenant-Based Rental Assistance (voucher) programs. The bill also makes improvements to work requirements for federal benefits by addressing the marriage penalty and increasing the grace period for parents.
"For too long, the left has waged a war on work. That needs to end today," said Scott.
Scott's proposal is receiving praise from several groups.
Tarren Bragdon, the president of the Foundation for Government Accountability (FGA), said Scott's proposal would help tame inflation and get Americans back into the workforce.
Ryan Walker, the vice president of government relations at the Heritage Foundation, also praised Scott's legislation as a way to get government programs to incentivize work, not discourage it.
Former U.S. Rep. David McIntosh, R-Ind., the president of Club for Growth, noted the proposal counters federal anti-poverty programs, "which often result in trapping Americans in government dependency."
Government statistics show around 41 million Americans are receiving SNAP emergency food benefits.
To help reduce the amount of money a number of individuals are receiving from food stamps, Florida and 32 other states have ended the emergency allotments that were increased during the height of the pandemic three years ago, which included $95 or more, depending on household size and income, in monthly benefits.
The 2023 Consolidated Appropriations Act passed by Congress ended these emergency allotments. The decrease would go anywhere from $95 to $250 per month for a given household.
Beginning in April, more than 1 million Floridians will get dropped from Medicaid. In 2020, millions of Americans, who were, at the time, deemed to be ineligible for the program, were allowed on thanks to public emergency provisions due to COVID.
David Williams, the president of the Taxpayers Protection Alliance, praised these efforts.
"The timing is right to reduce those on food stamps and Medicaid. With record-high job openings, there is no excuse for individuals to continue to live off the taxpayer," said Williams.