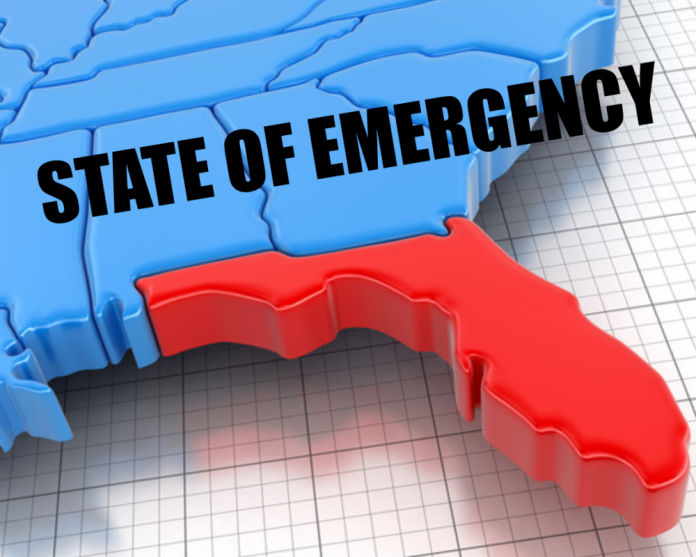 On Monday, Governor Scott requested that President Donald Trump declare a pre-landfall emergency for the state of Florida in preparation for Hurricane Michael, which is currently forecast to make landfall as a Category 3 hurricane in the Florida Panhandle very soon. This declaration will provide important resources and assistance from the federal government, as well as free up funding sources for emergency protective measures.
The pre-landfall declaration request is for 35 Florida counties – Escambia, Santa Rosa, Okaloosa, Walton, Holmes, Washington, Bay, Jackson, Calhoun, Gulf, Gadsden, Liberty, Franklin, Leon, Wakulla, Jefferson, Madison, Taylor, Columbia, Hamilton, Suwanee, Lafayette, Dixie, Gilchrist, Levy, Citrus, Pasco, Hernando, Pinellas, Hillsborough, Manatee, Alachua, Union, Bradford and Baker Counties.
The governor has also expanded Executive Order 18-276 to include Bradford, Pasco, Hernando, Pinellas, Hillsborough, Manatee, Alachua, Union, and Baker Counties. With these additions, the state of emergency includes 35 Florida counties in total.
STATE PREPAREDNESS ACTIONS
WATCHES AND WARNINGS
Hurricane Watch:
A hurricane watch is now posted for the northeast Gulf Coast from the Alabama/Florida border to Suwanee River, Florida. This includes Pensacola, Panama City and Tallahassee. Hurricane watches are issued 48 hours before the arrival of tropical-storm-force winds which is when outside preparations become dangerous.
Tropical Storm Watch:
Tropical storm watches are in effect from Suwanee River, Florida, to Anna Maria Island, Florida, including Tampa Bay. Also in a tropical storm watch is a swath of the Alabama/Florida border to the Mississippi/Alabama border as well as inland areas of southern Alabama and southwest Georgia.
Storm Surge Watch:
A storm surge watch is in effect from Navarre, Florida, to Anna Maria Island, Florida, including Tampa Bay. This means life-threatening storm surge inundation is possible in the watch area within 48 hours.
UTILITIES
Governor Scott has called on every local government to immediately confirm their mutual aid agreements between investor-owned utilities, municipals and co-ops are in place and effective so there is no delay in power restoration for Floridians. These agreements allow municipal utilities to receive aid from investor-owned utilities and co-ops as they work to restore power to customers. Without these agreements in place ahead of time, power restoration will be delayed.
MILITARY SUPPORT
The Florida National Guard currently has approximately 5,500 Soldiers and Airmen available for activation. The Governor activated 500 Florida National Guard Troops on state active duty orders for pre-landfall coordination and planning.
They are well-equipped, with assets including high water vehicles, helicopters, boats and generators. They are preparing for possible missions to include humanitarian assistance, security operations, and search and rescue.
In addition to personnel and assets, they can bring in an additional 30,000 personnel from other states through the Emergency Management Assistance Compact (EMAC).
LAW ENFORCEMENT
The Florida Fish and Wildlife Conservation Commission (FWC) is actively monitoring Hurricane Michael and ready to respond. On standby are 40 officers from outside the projected path ready to deploy if needed. They will respond with a variety of specialized equipment, including shallow draft boats, ATVs, airboats and four wheel drive vehicles.
The Florida Highway Patrol is actively monitoring the storm and assisting with emergency management missions.
The Florida Highway Patrol will begin staffing the Bryant Patton Memorial Bridge in Franklin County (St. George Island bridge) beginning today.
The Florida Highway Patrol currently has 24/7 representation within the State Emergency Operations Center coordinating preparation, response and recovery efforts.
The Florida Highway Patrol is actively monitoring the storm and ready to assist with any weather-related missions.
The Florida Highway Patrol is making preparations for approximately 342 state troopers to activate to 12-hour shifts. The activation would provide 24-hour enhanced coverage across Florida's Big Bend and Panhandle.
Florida Highway Patrol will maintain high visibility on Interstate-10 and associated evacuation routes to assist motorists, clear the roadways of any abandoned or disabled vehicles and will routinely check rest areas to assist residents and visitors.
DHSMV's Florida Licensing on Wheels (FLOW) mobiles are on standby to respond to impacted areas as soon as the storm passes.
The Florida Department of Law Enforcement's (FDLE) Mutual Aid team is communicating with law enforcement partners and participating in regular conference calls with the State Emergency.
Operations Center:
FDLE has communicated with members and partners in the panhandle to make preparations and be ready to begin response operations tomorrow morning.
TRANSPORTATION & PUBLIC WORKS
The Florida Department of Transportation (FDOT) is currently preparing roadways for impacts from Hurricane Michael.
FDOT has suspended all construction operations from the roadways.
FDOT is coordinating with the Florida Highway Patrol on bridge and roadway closures and detours.
FDOT is monitoring roadways for potential evacuations and identifying bridge inspectors statewide.
FDOT is preparing all standby generators for traffic signal support.
FDOT issued an Emergency Road Use Permit letter to relieve size and weight restrictions for vehicles responding to Hurricane Michael.
FDOT issued Weigh Station Bypass letter to allow emergency response vehicles such as utility vehicles and bucket trucks to bypass all FDOT weigh stations.
PUBLIC HEALTH AND MEDICAL
The Agency for Persons with Disabilities (APD) is continuing to monitor the storm and regularly sharing information with waiver support coordinators and providers to ensure the health and safety of the customers the agency serves.
The Florida Department of Health is actively monitoring Hurricane Michael and has activated ESF-8 personnel to staff the State Emergency Operations Center. A conference call is scheduled with county health departments (CHDs) today at 4 EST to discuss situational awareness and current needs.
The Department has requested 5 ambulance strike teams and 35 Special Needs Shelter Teams to support relief efforts.
CHDs will coordinate with their local County Emergency Management to ensure preparations are in place for Special Needs Shelters. Call downs will be conducted to persons on Special Needs Registries to ensure plans are in place for potential evacuations.
CHDs will review their local continuity of operations plans to ensure public health activities and CHD services are not interrupted by the storm.
CHDs will conduct outreach to healthcare facilities within the county to ensure they are implementing facility level emergency plans.
The Agency for Health Care Administration (AHCA) is in contact with healthcare facilities to ensure they have the resources they need.
AHCA will host a call with the Florida Health Care Association and all residential and inpatient healthcare facilities including all areas of the panhandle and east to Jacksonville.
AHCA has activated the Emergency Status System (ESS) for health care facilities in the panhandle to enter their storm preparedness status including generators and utility company information, emergency contacts, and bed availability.
The Florida Department of Elder Affairs is in contact with Area Agencies on Aging (AAAs) in Planning and Service Areas (PSAs) in the projected storm path.
AAAs continue to coordinate with their Lead Agencies, local service providers, and local county offices of emergency management as part of their emergency relief measures. Call-downs have already begun to assess client needs before, during, and after the storm.
The Department of Elder Affairs has also been communicating with our Long-Term Care Ombudsman Program (LTCOP) and CARES field offices who anticipate office closures. CARES staff is trained and stands ready to participate by assisting at Special Needs Shelters in affected areas, including with the discharge planning.
The Florida Department of Veterans' Affairs (FDVA) operates six skilled nursing facilities and one assisted living facility. All state veterans' homes are currently operational.
The Florida Department of Children and Families (DCF) is working with courts in Florida Panhandle counties to sign blanket travel approvals for all foster parents to evacuate with children in foster care.
DCF has ordered an early release of food assistance benefits for those Florida residents in the 11 counties under a hurricane watch who would have received normal SNAP benefits between now and 10/28. Benefits will be released to their cards 10/9 at 6:00 a.m. in the impacted counties.
ENVIRONMENTAL PROTECTION
DEP staff are in the process of contacting high-priority regulated facilities to remind them of storm preparations they should be making and offering assistance where needed.
165 Disaster Debris Management Sites (DDMS) have been pre-authorized for the counties addressed by the Governor's Executive Order.
The Florida Public Debris Reporting Tool is live (link https://survey123.arcgis.com/share/466259a6f3fc41e58bb3f651e59e3bd1)
The current condition of the state's beaches has been assessed, which will expedite post-storm assessments.
Florida State Park closures can be found at https://www.floridastateparks.org/StormUpdates
BUSINESS AND INDUSTRY
The Florida Department of Economic Opportunity (DEO) continues to encourage businesses to visit FloridaDisaster.biz for disaster preparedness tips and register to receive updates as the storm progresses.
DEO will coordinate with CareerSource Florida, local workforce boards, and other public-private partners.
EDUCATION
The Florida Department of Education (FDOE) is in contact with school districts, state colleges and universities for updates and to determine needs before, during and after emergency events.
All school districts, colleges and universities are monitoring Hurricane Michael and collaborating with local emergency preparedness officials to make decisions that ensure student and staff safety.
The following school districts have announced closures:
Bay County District Schools will be closed Tuesday (10/9) and Wednesday (10/10).
Florida A&M High will be closed Tuesday (10/9) through Friday (10/12).
Florida State University Schools (Florida High) will be closed Tuesday (10/9).
Leon County Schools will be closed Tuesday (10/9) through Friday (10/12).
The following state colleges and universities have announced closures:
Florida State University will be closed Tuesday (10/9) through Friday (10/12).
The Division of Blind Services and the Division of Vocational Rehabilitation are monitoring
Hurricane Michael to make decisions regarding office closures.
Districts are preparing in the case that their facilities are needed for shelters.
FDOE will be posting up-to-date information regarding closures and meeting cancellations at www.fldoe.org/hurricaneinfo.
INSURANCE
The Florida Office of Insurance Regulation (OIR) is prepared to order property insurers to submit claims information from Tropical Storm Michael, if necessary.
In accordance with the Governor's Executive Order, OIR has notified all health insurers, managed care organizations and other health entities of their statutory obligation to allow for early prescription refills during a state of emergency.
The Florida Department of Management Services, Division of State Group Insurance, has arranged for early prescription renewals starting today for members of the state group insurance program.
CONTACTS
The State Assistance Information Line (SAIL) contact number is 1-800-342-3557.
The State Emergency Operations Center Media Line: 850-921-0217.
Follow @FLSert or @FLGovScott on Twitter for live updates on Hurricane Michael.
Visit http://www.floridadisaster.org/info to find information on shelters, road closures, and evacuation routes.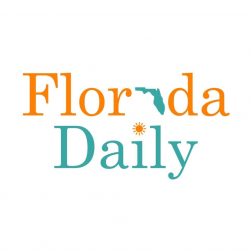 Latest posts by Florida Daily
(see all)