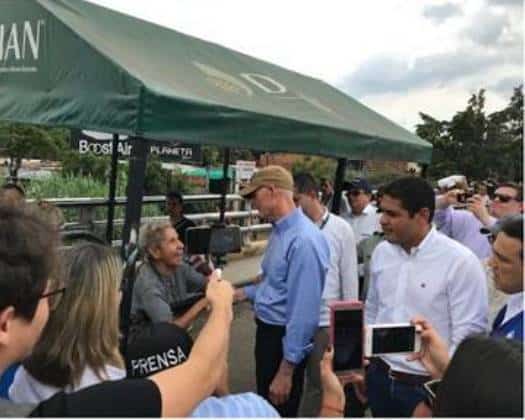 On a week long trip to South America, U.S. Sen. Rick Scott, R-Fla., took time to visit Colombia's border with Venezuela and addressed the ongoing crisis there.
"I'm traveling to Latin America to show the people of Venezuela that the United States stands with them in their fight for liberty," Scott said. "I look forward to partnering with our allies in Latin America to end the Maduro regime and support those who are fighting for human rights, freedom and democracy."
Scott was critical of the Maduro regime during his time as governor and instantly recognized Juan Guaido as president of Venezuela when he claimed power.
"As Americans, we understand the value and importance of freedom and liberty in our everyday lives," Scott said as he departed the U.S. "It is our duty to support those who are oppressed by dictators and denied the right to live their lives freely. When I ran for the U.S. Senate, I promised to do everything I can to fight for freedom and democracy in Latin America and throughout the globe."
The border visit comes two weeks after Scott called for military intervention in Venezuela to make sure the people in the nation have enough food and medicine to survive. On April 15 in Miami, Scott said at a press conference, "We have to use all, not just American, but military from around the world, to go in and get the humanitarian aid in there."
Standing in front of the La Unidad bridge from Colombia to Venezuela, Scott reiterated that call for intervention by all nations with their military if necessary.
"You can see behind me this is what Maduro put up, so we can't help him take care of his citizens. He is committing complete genocide," Scott said even going as far as to call Maduro a thug. "I met a lady at a food kitchen today. Thank God for USAID and other donations. Five thousand people are getting the only meal they are going to have for today, maybe for a few days. A lady in the kitchen today, she is sleeping in the streets of Cucuta because she doesn't have a job yet. She is looking for a job."
Scott is also co-sponsoring a bill, along with U.S. Sen. Marco Rubio, R-Fla., that would prohibit companies that do business with Venezuela from getting contracts from the federal government. For years now, the people of Venezuela have been plagued by a deepening crisis of food, medicine, and electricity shortages.
Reach Mike Synan at Mike.Synan@floridadaily.com. 
Latest posts by MIKE SYNAN
(see all)