While President Donald Trump is rumored to officially launch his bid for a second term next month, the Republican National Committee (RNC) is already working hard on his behalf to keep the key swing state of Florida in his column.
Former Vice President Joe Biden was in Florida this week and the RNC quickly pounced on the current frontrunner for the Democratic presidential nomination.
After Biden held events in Miami on Monday, Ellie Hockenbury, a spokeswoman for the RNC, came out swinging at the former vice president.
"Joe Biden's tired record of failed foreign policy and slow economic growth should sound the alarms for hardworking and proud Floridians. While President Trump has put America first, delivering on promises to the middle class and guiding our economy to unprecedented gains, Biden's agenda would reverse this progress and endanger our nation on the world stage," Hockenbury said.
Hockenbury also slammed Biden on Tuesday, accusing of him of veering to the left in his bid to capture the Democratic presidential nomination.
"From advocating for taxpayer-funded abortions to providing healthcare for illegal immigrants, there appears to be nothing Joe Biden won't say to prove how far left he will go. Unfortunately for Biden, extreme agendas like his won't fly with Floridians and will be quickly rejected in the Sunshine State," Hockenbury said.
With a new Gallup poll finding 71 percent of Americans think this is a good time to find a quality job, Hockenbury and the RNC insisted this will help Trump carry Florida again.
"These strong numbers add to President Trump's already historic economic successes of the lowest unemployment rate in 50 years, increased wage-growth to those who need it most, monster GDP growth, and more jobs available than people looking for work," the RNC noted.
"President Trump promised Floridians he would fight for them and their jobs, and he continues to do just that with his America First agenda," Hockenbury said. "2020 comes down to one question – do we want to continue these historic economic gains, or do we want to reverse course on this success?"
When Vice President Mike Pence was in Jacksonville on Monday to push for the United States–Mexico–Canada Agreement (USMCA), Hockenbury showcased the strong economy, including the 3.2 percent economic growth in the first quarter of 2019, the lowest unemployment rate in 50 years and the six million jobs created under Trump's watch.
"Thanks to ​President Trump and Vice President Pence, our nation's unemployment rate is at record lows, the roaring economy has been smashing expectations, and we are finally seeing deals being made that benefit hardworking Floridians.  The Sunshine State is seeing an administration that works for them, helping give Floridians more money in their pockets and providing a better future for their families," Hockenbury said.
Kevin Derby can be reached at Kevin.Derby@floridadaily.com.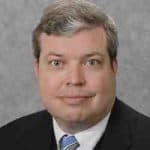 Latest posts by Kevin Derby
(see all)