Former U.S. Rep. Ron DeSantis, R-Fla., defeated Tallahassee Mayor Andrew Gillum to become the 46th governor of the state of Florida.
With 99 percent of the vote in, DeSantis had 49.9 percent while Gillum had 48.9 percent. DeSantis had almost 4,014,000 votes while Gillum had just under 3,935,000 votes.
State Rep. Jeanette Nunez, R-Miami, was DeSantis' running mate and will be the state's next lieutenant governor, making her the third woman to hold that office.
Conservatives at the state and national level celebrated DeSantis' win on Tuesday night.
State Rep. Blaise Ingoglia, the chairman of the Republican Party of Florida, cheered the news.
"It's a huge night for Ron DeSantis and the people of Florida— tonight, the supposed blue wave hit a big red wall," said Ingoglia. "Once again, Floridians cast their vote to keep Florida red, choosing prosperity over empty promises, free markets over big government and a veteran over a career politician. Let's be clear, this election was as much a mandate to continue the path our state is on, as it is a wholesale rejection of the policies that Andrew Gillum was espousing on the campaign trail. The RPOF congratulates Governor-elect Ron DeSantis on his well-deserved victory and we look forward to working with his Administration to continue creating jobs, strengthening our economy and securing a more prosperous future for all Floridians."
Tea Party Patriots Citizens Fund (TPPCF) Chairwoman Jenny Beth Martin cheered DeSantis' win.
"Tea Party Patriots Citizens Fund congratulates Ron DeSantis on his victory in Florida's contest for governor," she said. "The Sunshine State has elected a solid conservative who, during his time in the House, led efforts to repeal Obamacare and impose term limits on members of Congress. We know that Ron will continue efforts to lower taxes and spur economic growth at the state level as Florida's governor. We are proud to have endorsed him, and to have helped support his campaign for Governor, and we look forward to working with him to enact his agenda based on our shared conservative values."
Gillum conceded on Tuesday night. "We didn't win it tonight," he told supporters. "We didn't win this transaction."
DeSantis relied heavily on the backing of President Donald Trump who endorsed him over outgoing state Agriculture Commissioner Adam Putnam in the primary. Trump took to the stump for DeSantis, appearing with him at rallies in Fort Myers and Pensacola last week.
A Navy veteran who went to Yale and Harvard Law, DeSantis burst upon the political scene in 2012, winning an open congressional seat in Northeast Florida which he easily kept in 2014 and 2016. DeSantis ran for the U.S. Senate in 2016 but shifted back to running for his congressional seat when U.S. Sen. Marco Rubio, R-Fla., decided to run for a second term at the last minute.
After their loss on Tuesday night, the Democrats have not won a Florida gubernatorial election since 1994 when then Gov. Lawton Chiles held off Republican Jeb Bush.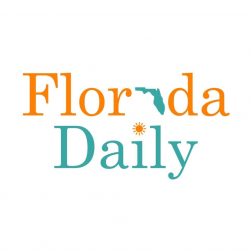 Latest posts by Florida Daily
(see all)