After almost six years in Congress, U.S. Rep. Ron DeSantis, R-Fla., announced on Monday that he was resigning his seat to focus on his bid to become Florida's next governor.
DeSantis sent a letter to U.S. House Speaker Paul Ryan, R-Wisc., announcing his resignation, backdating it to the start of the month and not drawing any salary for September.
"One of my guiding principles during my tenure in Congress has been to protect the taxpayers that I represent. This is why in my first days in office, I rejected my congressional pension, turned down the healthcare subsidy for members of Congress, and fought against a congressional pay raise. I believe members of Congress should not be treated any differently than those they govern. I've done my best to live these principles: I refused my pay during government shutdowns and have slept in my office to cut costs and be a more effective legislator," DeSantis wrote Ryan.
"During my time in Congress, we've been able to accomplish some great things," DeSantis added. "I've had the honor to lead on important issues such as eliminating the Sexual Harassment Slush Fund for members of Congress, increasing protections for sexual assault victims in the military, and getting the PAWS Act to the floor for a vote later this month, which will provide much needed help for service members dealing with Post-Traumatic Stress. I've also been proud to play a significant role in helping pass one of the largest tax cuts in our country's history and moving the U.S. embassy in Israel to Jerusalem.
"As the Republican nominee for governor of Florida, it is clear to me that I will likely miss the vast majority of our remaining session days for this Congress," DeSantis continued. "Under these circumstances, it would be inappropriate for me to accept a salary.  In order to honor my principles and protect the taxpayer, I officially resign from the House of Representatives effective immediately.  For purposes of pay, I ask that my resignation be retroactive to September 1 so that I do not receive any pay for the month of September.
"This is not a decision I make lightly. It has been an honor to serve the people of Florida's Sixth Congressional District, and I look forward to serving them and the rest of Florida as our state's next governor," DeSantis concluded.
DeSantis was first elected to Congress in 2012 and was not running for a fourth term.
Polls show a tight contest as DeSantis faces Tallahassee Mayor Andrew Gillum, the Democratic nominee, in the general election in November.
Florida Democratic Party Chairwoman Terrie Rizzo came out swinging at DeSantis on Monday, insisting he was trying to draw attention away from reports that he spoke at events held by David Horowitz Freedom Center which critics attack as divisive and anti-Islamic.
"Ron DeSantis' entire political career has been about helping one person: Ron DeSantis," she claimed. "In Washington Ron DeSantis voted to take away healthcare coverage from millions of people while he showered President Trump with praise on Fox News. Today, Ron DeSantis quit on the people of Florida, in an attempt to distract from a firestorm of controversy over his attendance at extremist conferences. Ron DeSantis can abandon his post, but he can't avoid questions about why he chose to associate himself with hateful, fringe organizations."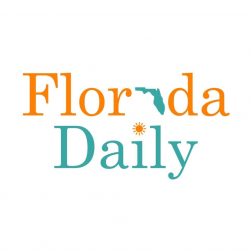 Latest posts by Florida Daily
(see all)