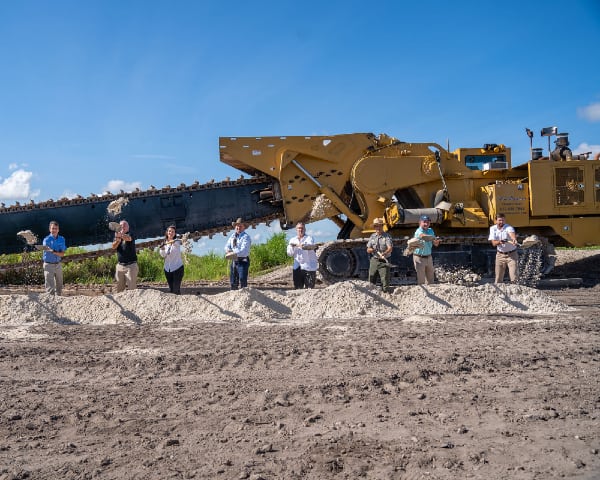 At the end of last week, the South Florida Water Management District held a groundbreaking ceremony for the construction of an underground seepage wall in the 8.5 Square Mile Area (Las Palmas Community).
The underground concrete wall will help mitigate flooding in the 8.5 Square Mile Area, keep water in Everglades National Park, and support increased flows of water south which are necessary for Everglades restoration.
"When I took office, I made Everglades restoration and protection of Florida's water resources a top priority," said Gov. Ron DeSantis. "My administration has provided record investments and expedited key projects to restore the Everglades and send more water south. Today's groundbreaking is yet another example of my administration's commitment to Florida's natural resources."
Seepage walls are well-established engineering features that help to limit the flow of water underground that can lead to above-ground flooding. This seepage wall will be over two miles long, 63 feet deep, and 26 inches wide. When completed, the seepage wall will work in conjunction with other Everglades restoration projects to send more water south. Construction is expected to be complete in April 2022.
"As a native of Miami, I understand the importance of moving projects forward that benefit the Everglades and Florida Bay," said Lt. Gov. Jeanette Nuñez. "I am proud of the historic progress we have made removing barriers to move water south, and this project will further our efforts to support the health of the Everglades and Florida Bay. This administration will continue to fight for our environment and natural resources."
"When Governor Ron DeSantis first took office, he made it clear that expediting critical Everglades restoration projects would be a top priority," said Department of Environmental Protection Interim Sec. Shawn Hamilton. "Today, we are breaking ground and celebrating another milestone for our Everglades. The 8.5 Square Mile Curtain Wall Project supports important flood mitigation and increased flows of water south through the Greater Everglades."
"Today is another great day for America's Everglades thanks to the leadership of the DeSantis Administration and my fellow board members at the South Florida Water Management District," said South Florida Water Management District Governing Board Member "Alligator Ron" Bergeron. "Full Everglades restoration depends on water moving south from the headwaters of the Everglades near Orlando all the way down to Florida Bay. This underground wall on the eastern edge of Everglades National Park supports our Everglades restoration goals, mitigates flooding in nearby communities, and allows us to better utilize our infrastructure for the benefit of people and the environment. Thank you to our governor, lt. governor, partners, and the public for helping make today happen."
"This is another important milestone in the DeSantis/Nuñez Administration's established commitment to restoring America's Everglades," said Eric Eikenberg, the CEO of the Everglades Foundation. "The 8.5 Square Mile Area has been an obstruction in restoration's path for far too long. Under the leadership of this South Florida Water Management District's Governing Board, we are celebrating a critical step in restoring the flow of clean fresh water to Everglades National Park and Florida Bay."
"It is an exciting time to be working with our partners on Everglades Restoration," said Lt. Col. Todd Polk, U.S. Army Corps of Engineers Jacksonville District Deputy Commander for South Florida. "We are able to send more water south to the Everglades and Florida Bay than ever before, and as more CERP projects come online, those amounts will only grow. As we build more infrastructure to move, store, and clean water so it can move into the Everglades, this new construction will reduce the risk of flooding for the people in the 8.5 Square Mile Area."
"Protecting our natural resources and ecosystems has always been a priority for me," said U.S. Rep. Carlos Gimenez, R-Fla.. "This project is not only vital to the health of the Everglades, it mitigates flooding for the Las Palmas community. As congressman of Florida's 26th District, overseeing the Florida Keys and Everglades, it is critical that we, as elected officials, at the federal, state, and local level work closely together to continue to maintain and restore the flow of water for the Florida Everglades."
"For countless years we have been working to fix Miami-Dade County's flooding issues and advocating for the importance of building the seepage wall as one of the essential components of Everglades restoration to maintain the viable balance of farmers and residents in the central and southwestern areas of Miami-Dade County," said Miami-Dade County Board of County Commissioners Chairman Jose "Pepe" Diaz. "Today's groundbreaking ceremony brings us one step closer to completing the seepage wall and ensuring much needed relief to the residents of Miami-Dade County and the environment."
"The state and federal governments are investing billions of dollars to restore the Everglades," said Pedro Ramos, the superintendent of Everglades and Dry Tortugas National Parks. "This project will not only ensure that we fully benefit from that investment by preventing water from seeping away from the park, but will also mitigate flooding concerns within the community of Las Palmas."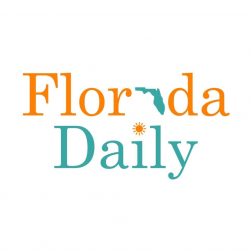 Latest posts by Florida Daily
(see all)