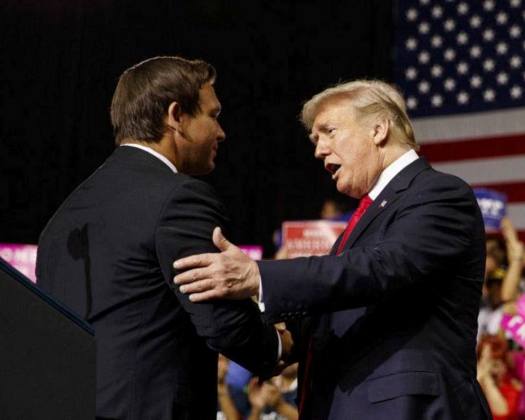 While it's very early, Gov. Ron DeSantis is starting to gain attention as Republicans look ahead to 2024.
The Florida governor is certainly on former President Donald Trump's mind.
Last week, Trump told Fox Business Network host Maria Bartiromo that he was thinking about running for president in 2024, adding that he would certainly consider DeSantis as a running mate.
"I endorsed Ron and after I endorsed him he took off like a rocket ship," Trump said."He's done a great job as governor."
But those in the betting community, namely in online gambling and wagering, currently have DeSantis to win the Republican presidential nomination.
According to PredictIt, an online research group out of Washington D.C. that speculates on possible outcomes in the political and financial arenas, those who already are betting on who the GOP nominee for 2024 will their money on DeSantis, not Trump.
Behind DeSantis and Trump are former Gov. Nikki Haley, R-SC, and former VP Mike Pence. Last week, Pence spoke in South Carolina, a key state to winning the Republican presidential nomination.
At the end of February and the start of March
, Trump pollster 
Tony Fabrizio 
ran a survey of potential 2024 GOP presidential candidates showing Pence ahead of the field at 19 percent with DeSantis right behind him at 17 percent–but the poll did not include the former president.