Gov. Ron DeSantis recently picked two men to fill vacancies in the Ninth Judicial Circuit to replace retiring judges–but may have to change those plans as one of the potential judges doesn't live in the district.
Florida Daily has learned that one of the governor's choices–Michael Kraynick–does not live in the Ninth Circuit.
Records with the Seminole County Property Appraiser show a Michael Kraynick with the same middle initial claiming homestead on a property about two miles over the border from Orange County since 2016.
The state Constitution is clear on the matter:
SECTION 8. Eligibility.—No person shall be eligible for office of justice or judge of any court unless the person is an elector of the state and resides in the territorial jurisdiction of the court.
A person by the same name with the same address has also been a registered voter in Seminole County according to the Supervisor of Elections office.
The governor was not aware of this issue when he made the selection, believing the Judicial Nominating Commission (JNC) gave him qualified candidates.
"Whatever we got, whatever address was on the application was in the District," DeSantis told Florida Daily.
On the application from Michael Kraynick to the JNC, he didn't shy away from his residence, listing both his home and voter registration as Seminole County. The actual address is blacked out to comply with state law that exempts judges from these sunshine requirements. The application for his nomination to the Ninth Circuit came from the Governor's Office four weeks after Florida Daily requested it.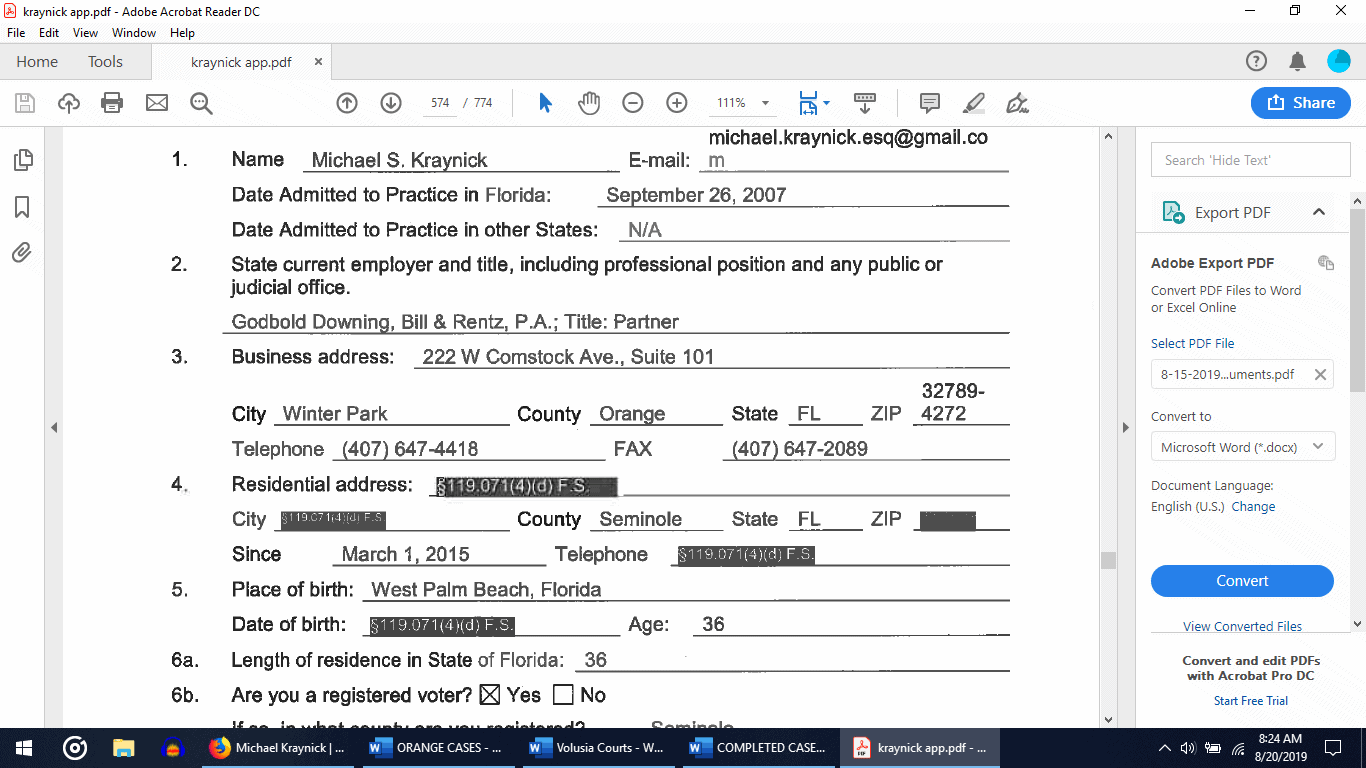 Last month, Florida Daily spoke to the governor about Kraynick's residence. DeSantis told Florida Daily, if he has not already, Kraynick will have to move into Orange or Osceola County.
"We will just have to look at that, but yes, you have to live there. You do have the ability to move prior to taking office," DeSantis said.
Florida Daily attempted to reach Kraynick for comment but his former law firm declined to comment, and his email address came with an auto reply that he would no longer take emails from that address since he left his former law firm for the bench as of July 8.
Florida Daily is unable to currently confirm whether Michael Kraynick now lives within the Ninth Circuit as required by law.
Update: After this story on Kraynick was published, the Ninth Circuit contacted Florida Daily and told this reporter that the judge did get an apartment in the circuit and registered to vote in Orange County as is required by law before he took the oath of office.
Reach Mike Synan at mike.synan@floridadaily.com.
Latest posts by MIKE SYNAN
(see all)