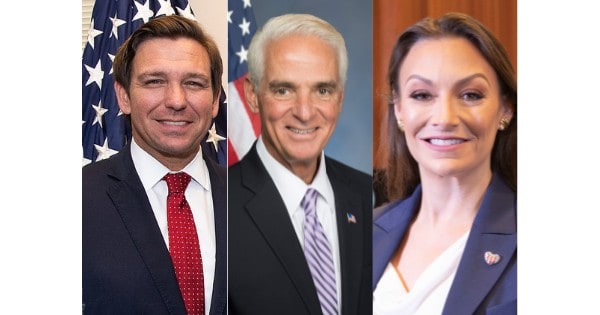 Gov. Ron DeSantis remains the odds-on favorite to win the 2022 Florida gubernatorial election, according to betting aggregators US-Bookies.com.
DeSantis' odds are currently 1/3 (75 percent implied probability), while his nearest competitor, U.S. Rep. Charlie Crist, D-Fla., has 9/2 odds to win (18.2 percent) to win back the job he held as a Republican after winning the 2006 election. State Agriculture Commissioner Nikki Fried is also running for the Democratic nomination.
"DeSantis' re-election chances were on a downward trend through the summer, with his odds shifting from 1/5 in June to 1/3 in August," said a US-Bookies spokesperson. "During that time, Charlie Crist and Nikki Fried were improving in the odds markets, indicating that it was becoming a closer race."
Crist's odds to win improved from 8/1 in June (11.1 percent implied probability) to 4/1 (20 percent). However, they've since worsened slightly to 9/2 (18.2 percent). Fried's odds improved from 10/1 in June (9.1 percent) to 8/1 in August (11.1 percent), where they currently remain.
"In the recent California recall of Governor Newsom, polls predicted a tighter margin of victory while betting data suggested Newsom was more heavily favored," said a US-Bookies spokesperson. "Similarly, betting odds forecasted a negative outlook for DeSantis ahead of most polls, again suggesting wagering data is ahead of the curve."
Latest posts by Florida Daily
(see all)