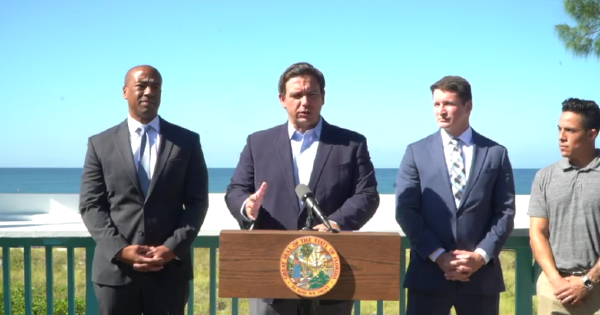 On Tuesday, Gov. Ron DeSantis announced that the Department of Economic Opportunity (DEO) is awarding $2 million in Florida Job Growth Grant Funds to the city of St. Pete Beach.
This funding, along with a $2 million match from the city, will be used to finalize the overhaul of the city's wastewater system to restore capacity for hotel and lodging expansion. The project is expected to create 1,316 new, permanent jobs and generate nearly $13 million annually for the local economy. DeSantis made this announcement at Crabby Bill's, a local staple and one of many businesses that will benefit from increased tourism to the area.
"I am pleased to announce $2 million to finalize wastewater system upgrades that will support economic growth in St. Pete Beach," said DeSantis. "This infrastructure will serve a vital role in protecting the incredible environment here while allowing the area to expand accommodations and welcome more visitors, which will bolster all parts of the local economy. By investing in projects like this one, we continue to make Florida the top destination in the country for job growth and economic activity."
The announcement is part of a week-long series of events in which the governor will highlight projects that are keeping Florida's economy strong.
"Through this award to the City of St. Pete Beach, Governor DeSantis is furthering our state's mission to bolster Florida businesses and enhance economic and environmental resiliency," said Sec. Dane Eagle of the Florida Department of Economic Opportunity. "This funding will help the city of St. Pete Beach complete the current wastewater renovations, open doors to redevelopment, and help create new jobs to further support the lives of the Floridians who live there."
"Today's award to the city of St. Pete Beach goes a long way toward supporting redevelopment and future economic growth in the area," said Florida Sec. of Commerce Jamal Sowell, the president and CEO of Enterprise Florida, Inc. "This will provide funding for an important project that will improve wastewater infrastructure and encourage job growth throughout the City."
"This grant award is a clear demonstration of how investments in the protection of our natural resources can also bolster our economic resiliency," said DEP Sec. Shawn Hamilton. "This announcement is great news for the city of St. Pete Beach. Funding for infrastructure, such is this, is critical to the health of our environment and the growth of communities across our state."
The Florida Job Growth Grant Fund is an economic development program designed to promote public infrastructure and workforce training across the state. Proposals are reviewed by the Department of Economic Opportunity (DEO) and Enterprise Florida, Inc., (EFI) and chosen by the Governor to meet the demands for workforce training or infrastructure needs in communities around the state.
In 2020-21, $74 million in awards are available for projects that focus on rapidly developing a highly skilled workforce and on infrastructure initiatives that attract businesses, create jobs, and promote economic growth. DEO and EFI are currently accepting proposals.
Latest posts by Florida Daily
(see all)