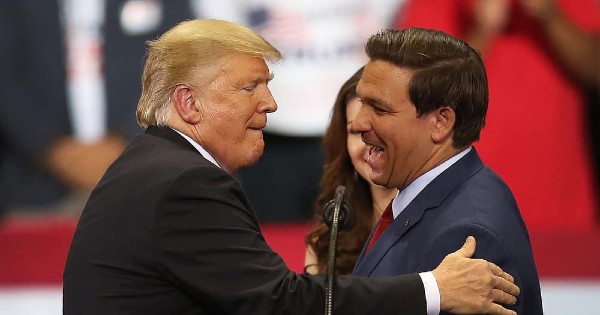 Gov. Ron DeSantis is gaining momentum for a possible 2024 presidential bid and some of his support is coming at former President Donald Trump's expense.
With 740 Republicans in attendance at a Michigan Republican Leadership Conference straw poll sponsored by the Detroit News at the end of last month, Trump won with just 47.5 percent of the vote, below what had been expected, with DeSantis in second with 25 percent.
In another poll conducted by John Bolton Super PAC, Trump and DeSantis were in a virtual tie. Trump was ahead with 26 percent with DeSantis right behind him at 25 percent.
Those conducting the survey noted that Trump led the field with 45 percent back in July while 57 percent of Republicans think "to move forward we need new leaders and fresh faces"–which could be helping DeSantis as GOP voters wonder who should take on President Joe Biden in 2024.
Are Trump endorsements a hot commodity? In the Detroit News straw poll, 44 percent of Republicans said a Trump endorsement would not impact whether they support a candidate or not while 60 percent of them said they would back a Republican candidate even if they did not agree with the former president's claim that the 2024 presidential election.
Trump has hinted he may make another run for the White House in 2024. If Trump does not launch another campaign, DeSantis is seen as the front runner.
But political observers note that if Trump decides to stay out in 2024, the Republican field could be much larger than the massive field in 2020 which saw more than 15 candidates.