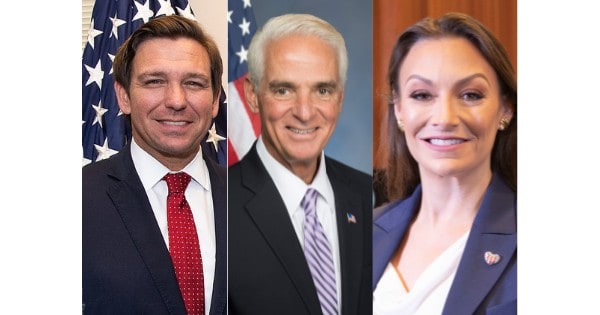 Gov. Ron DeSantis starts his reelection bid ahead of his three Democratic rivals, a poll released by Mason Dixon on Tuesday morning shows.
U.S. Rep. Charlie Crist, D-Fla., who was elected governor as a Republican back in 2006, comes closest against DeSantis but the governor leads him 51 percent to 43 percent with 6 percent undecided. DeSantis does even better when matched up against state Agriculture Nikki Fried, besting her 53 percent to 42 percent and 5 percent undecided. When matched against state Sen. Annette Taddeo, D-Miami, DeSantis leads 53 percent to 37 percent with 10 percent undecided.
"These leads all appear to be related to DeSantis' name recognition advantage, although Crist is almost comparably well known," Mason Dixon noted.
A majority of those surveyed–53 percent–approve of DeSantis–while 43 percent disapprove of him. That mirrors a Mason Dixon poll from February 2021 which showed 53 percent of those surveyed approving of the governor while 42 percent disapproved of him.
Almost half of those surveyed–49 percent–see DeSantis favorably while 37 percent view him in an unfavorable light, 11 percent are neutral on him and 3 percent have no idea who he is. Crist is upside down with 35 percent viewing him as unfavorable, 32 percent seeing him favorably, 25 percent being neutral on him and 8 percent have never heard of him. Fried is seen as favorably by 20 percent, unfavorable by 14 percent while 33 percent are neutral about her and another 33 percent have no idea who she is. Taddeo is easily the most unknown candidate with 57 percent having never heard of her while 32 percent are neutral about her, 7 percent see her favorably and 4 percent view her unfavorably.
The poll also included a sampling of Florida Democrats and Crist leads the August primary field with 44 percent followed by Fried with 26 percent and Taddeo with 3 percent while around a quarter of those surveyed–26 percent–still undecided.
Crist is viewed in a favorable light by 56 percent of Florida Democrats while 12 percent see him unfavorably, 25 percent are neutral about him and 7 percent do not know who he is. Fried is seen favorably by 39 percent of Florida Democrats whole only 4 percent see her unfavorably while 40 percent are neutral and 17 percent have never heard of her. Taddeo is largely unknown with 52 percent of Florida Democrats having never heard of her while 33 percent are neutral about her, 13 percent see her favorably and 2 percent see her as unfavorable.
The poll of 625 registered voters across Florida was taken from Feb. 7 through Feb. 10 and had a margin of error of +/- 4 percent. The poll of 400 likely voters in the Florida Democratic primary was taken over the same dates and had a margin of error of +/- 5 percent.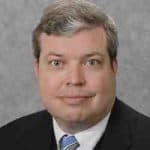 Latest posts by Kevin Derby
(see all)