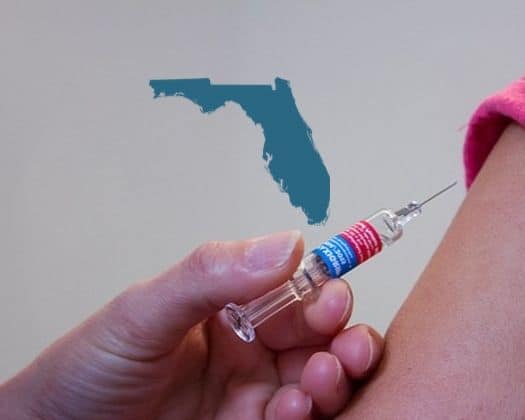 Just after getting tens of thousands of extra vaccines from the Biden administration, and only minutes after praising the nation's response to the pandemic so far this year, this week, Gov. Ron DeSantis could not resist poking at the Biden White House over the way it is handling the pandemic response.
The tiff started when White House spokesperson Jen Psaki singled out Florida as a place that had plenty of vaccines. DeSantis defended the state by explaining that what Florida has in stock are second doses already promised to seniors and that his administration would not renege on that promise for the booster shot.
At a press conference in The Villages, DeSantis lauded the effort so far, saying almost 30,000 Florida seniors already have taken their second dose of the vaccine. He also encouraged the federal government to send more.
"What the state of Florida needs, and I think most governors agree, is simply additional doses of the vaccine. The infrastructure to do these shots is there. These hospitals could double their output. Our community sites could probably double their output, and I know Publix, we could do 700 Publix stores. We are doing 251," DeSantis said.
He's encouraging the federal government to do even more, including working with companies like Walmart and Winn-Dixie.
"If they do turn on the federal pharmacy program, that would be in addition to our current allotments. I think that would be really helpful, and I think you have folks that are willing to play ball on this." DeSantis told the media, saying he is already working with those companies on a distribution plan for Florida.
DeSantis said he would allow the federal government to use its own agencies, including the Federal Emergency Management Agency (FEMA) to distribute vaccines if necessary.
"If the choice is 'hey we have 50,000 doses for you, but you only get it if we administer it,' then I would say go ahead and do it," DeSantis said.
When asked about the White House's assertions about Florida, the governor's tone changed.
"What I've seen since January 20th is too much politics thrust into the COVID response. When they're saying that there was no plan for vaccine distribution by the federal government, that's just factually false," DeSantis pushed back while praising how former President Donald Trump's team handled the vaccine. DeSantis was a Trump ally. "I had meetings with governors, conference calls. I met with 'Warp Speed' multiple times in the White House. We've had phone calls, and they had been getting vaccines out to the states."
The governor continued to say that Florida's plan is the best one.
"I understand that it was a campaign. The campaign is over," the governor said. "Now let's just focus on putting seniors first regardless of policy, regardless of politics, or regardless of party, and I think that if we do that, then I think that we will be more effective."
He even sounded angry over how the Biden administration is handling Florida so far.
"No one has called me and said 'Governor, what would make sense? What have you found? What are some of the lessons you've learned? What's been effective? What's not been effective?' We've learned a lot over the past month and a half, and I think that we've done a really good job," DeSantis said.
This retort coming after a Miami Herald story from December where it was reported the governor was not accepting calls from several Democratic mayors in South Florida.
As for the efforts fighting the pandemic, DeSantis continues to paint a rosy outlook, focusing on hospital and morbidity numbers instead of an alarming percent of Floridians now testing positive.
"The more seniors we vaccinate, the lower that hospitalization number is going because those are the folks that are most likely to need admission to the hospitals," DeSantis said, pointing out that 23 houses of worship have now been used as vaccination sites and that soon 1,500 doses a week will be reserved for inoculating homebound seniors.
The message continues to be more vaccinations are coming.
"I think it's going to be hard for COVID to have a serious spike when you combine the people that have natural immunity through infection, and then the vaccine. So we are making some really good progress as a country on this," the governor said.
Reach Mike Synan at mike.synan@floridadaily.com.
Latest posts by MIKE SYNAN
(see all)