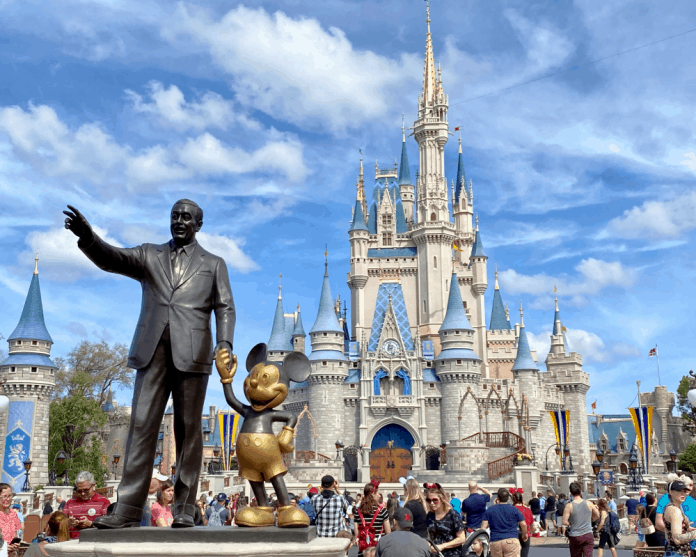 As Central Florida, the tourism capital of the world, slowly reopens, two more theme parks are getting the green light from Gov. Ron DeSantis and Orange County Mayor Jerry Demings to reopen. But while SeaWorld is ready to move forward quickly, Walt Disney World wants another month and a half before it will open its doors.
Both parks presented their plans to Orange County's Reopening Task Force and got unanimous approval to move forward. The two theme parks have some similarities in their plans.
For SeaWorld, the target date to reopen is June 11.
"Health and wellbeing have always been a top priority of ours. We are very confident as long time operators of parks in our ability to execute on this plan, and we will manage the capacity accordingly," interim CEO Marc Swanson told a group of tourism executives and business owners from across Orange County.
Swanson called it "an exciting time for all of us" and said on June 10, the park will hold an event for employees to thank them for their efforts. SeaWorld laid off thousands of employees in Orlando when the park was forced to close. On June 11, the general public will be allowed in with a limited capacity. Hand sanitizer will be available at the entrance to each ride. There will be signage and videos about social distancing and marks on the ground to help guests stay six feet apart. Guests will be required to wear masks.
Disney will wait until July 11 before opening the doors at the Magic Kingdom and Animal Kingdom. Epcot and Hollywood Studios will not reopen until July 15. Jim McPhee, the senior VP of operations for Walt Disney World did not address why his organization was waiting more than a month after Universal and Sea World to reopen.
"We believe our reopening proposal for our property reflects a very thoughtful, methodical, phased approach, and we've incorporated all of the reopening protocols throughout our guest experiences, and our cast experience," McPhee told the task force.
One of the reasons Disney may be waiting longer to reopen is the plan to introduce an entirely new guest reservation system at the theme parks. The theme park giant is also in talks with both the NBA and MLS about hosting those leagues on Disney property if they resume their seasons. Each league would need at least one resort and the Wide World of Sports could host the games.
At the parks, Disney guests would be required to wear masks. Disney is having internal discussions about whether or not to allow relaxation zones where the public could take off masks. Employees would be required to wear masks.
McPhee said he has a plan to keep employees safe.
"For our cast, we are making changes to the environment in all back of house areas and break rooms. We have modifications to our facilities to enable physical distancing whether on lunch or break or traveling to and from various locations," McPhee said.
At each park, Disney will take the temperatures of employees and guests every day before allowing them to enter.  Disney is scrapping parades and fireworks, traditionally big draws for crowds, to promote social distancing. Disney is also stopping character appearances for the moment, a sharp contrast with SeaWorld which plans to have characters appearing at Sesame Street Land.
Demings applauded both plans.
"I do appreciate their thoroughness in preparing for reopening the various parks. They have exhibited a significant amount of due diligence in making certain that their desire to reopen and return commerce to their parks, they have also taken into consideration the safety of their guests," Demings said.
Everyone hopes the reopening of Orlando's theme parks will at least stop the economic bleeding as Central Florida continues to rely heavily on tourism.
Reach Mike Synan at mike.synan@floridadaily.com.
Latest posts by MIKE SYNAN
(see all)