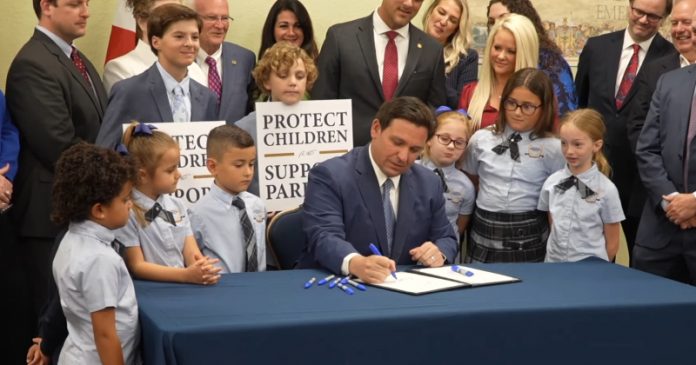 At the start of July, the Parental Rights in Education Act goes into effect for school districts throughout Florida.
The law prohibits classroom instruction on sexual orientation or gender identity from kindergarten to third grade in Florida public school districts.
Supporters of the bill, which was signed into law by Gov. Ron DeSantis, said that discussions about sexuality and gender identity with very young children should be handled by a child's parents, and not by their schools.
But some school districts are signaling they may challenge the governor on the new law.
According to a new report from Parents Defending Education (PDE), the Broward County Public Schools (BCPS) district is promoting transgender ideology to students without their parents knowing about it.
The new guideline by the school district clearly states that "parental/guardian participation is not required" for students to transition to another gender. It also advises students to transition over "summer break" to "maintain privacy."
PDE insists that the district's guide on LGBT issues supports keeping parents in the dark on their child's transition.
BCPS suggested their guidelines are needed for the safety and well-being of students.
"If we believe that abuse, abandonment, or neglect is going to occur by telling the parent, and we have…prudence, we don't have to tell the parent. This is a partnership. Raising children is not just the role of one person, or just a parent, or a set of parents, or a set of guardians, or caregivers," said BCPS Superintendent Vickie Cartwright.
Duval County, another large school district, could also challenge DeSantis on the matter.
Over the last two months, Duval County School Board Member Charlotte Joyce has been wanting to put other board members on record on a resolution in support of the Parental Rights Bill.
Joyce's resolution would read that the district "unequivocally supports" the new law. But board members won't pass Joyce's resolution, tabling it for the moment. The Duval County School District, like BCPS, is working on a new district LGBT "Support Guide" dealing with the new state law.
The district's Department of Health Education & Physical Education and the Office of Equity & Inclusion are working on the guide, trying to find a happy medium to deal with the new law, how schools should deal with bathroom use, the use of names and pronouns, policies for overnight field trips, dress codes, rules for proms, inclusive language and many other topics.
The guide also deals with students who are transitioning and parental involvement.
"Unfortunately, LGBTQ+ youth may experience parental rejection and/or abuse because of their sexual orientation or gender identity, the degree to which teachers and administrators need to be sensitive about this issue, cannot be overstated. In short, it is a compliment when a student trusts you enough to come out to you. It is up to you to prove yourself worthy of that trust," the guide includes.
The district guide also stresses that all LGBT students have the right to decide when and to whom their gender identity and sexual orientation is shared, including family members.
Parents advocacy group Moms For Liberty released a statement, calling it no surprise that some districts are opposing the new law.
"Look at what the districts did when the governor said no on school mask mandates, so to see them try to scale back the governor's law isn't a shock," the group noted.
Moms For Liberty's northeast Florida chapter maintained that the district's lawyers offered a presentation on how the state law may be unconstitutional.
Sarasota County School Board Member Bridget Ziegler said she would not be surprised to see other school districts try to skirt around the new laws.
" The fact that some districts and school board members are playing political games, in an attempt to defeat legislation or attack Governor DeSantis for protecting parental rights in education for their…children – shows exactly where their priorities are… or are not. And it clearly isn't on prioritizing the education of Florida's children," said Ziegler.