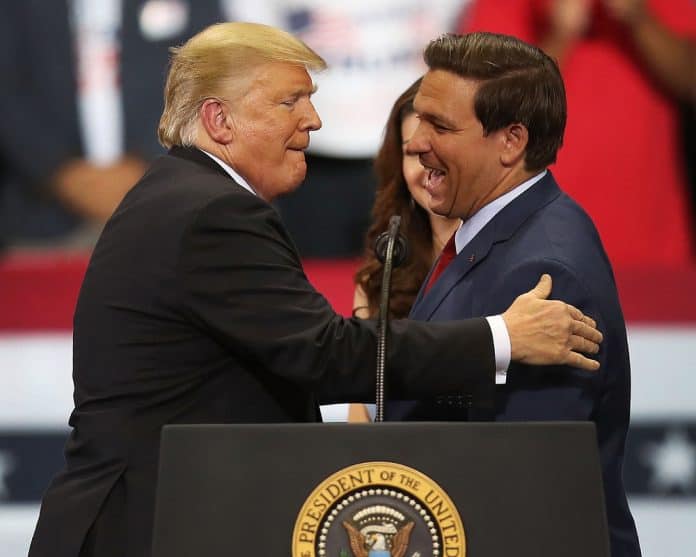 Brian Schwartz from CNBC recently reported that Republican donors are staying away from former President Donald Trump and are instead looking at backing other potential 2024 presidential candidates including Florida Gov. Ron DeSantis.
But before 2024, the Republican Party's biggest and most influential donors are looking at financing the 2022 midterms as the GOP looks to flip control of the U.S House and the U.S. Senate.
Why the change from Trump to DeSantis and possibly other candidates?
Schwartz said many of the GOP's big-money backers are tired of seeing the former president using his resources on rallies during which he often makes false claims, including that the 2020 election was stolen from him.
Though Trump hasn't made a formal announcement for a possible run in 2024, he has hinted that he is open to another campaign.
Trump's PACs have raised millions over the past several months and banked $100 million during the first half of 2021.
Another sign that GOP donors could be looking at another option besides Trump was a recent fundraiser for DeSantis' 2022 gubernatorial campaign. At that fundraiser, many Trump backers donated heavily to DeSantis.
Some Florida GOP strategists say 2024 is still a ways off and it's a bit premature to predict what will happen. However, they noted that, in the midterms, there could be possible fractions in some wings of the GOP which could lead to some primary fights.
Former Florida Republican Party Executive Director Jamie Miller, now a media consultant, said he expects candidates to seek endorsements from both Trump and DeSantis.
"Even if Trump loses some popularity or he decides not to run in 2024, many of his ideas and issues still resonate with a good number of Republicans," Miller said.
Fox News political analyst Brit Hume said Republicans want to win in 2024, even if that means ditching Trump which sticking with his agenda.
"I can assure you many, quietly, don't want Trump back on the ticket, but these same people want the American First policies adopted by whoever becomes the 2024 Republican nominee," said Hume.
Reach Ed Dean at ed.dean@floridadaily.com