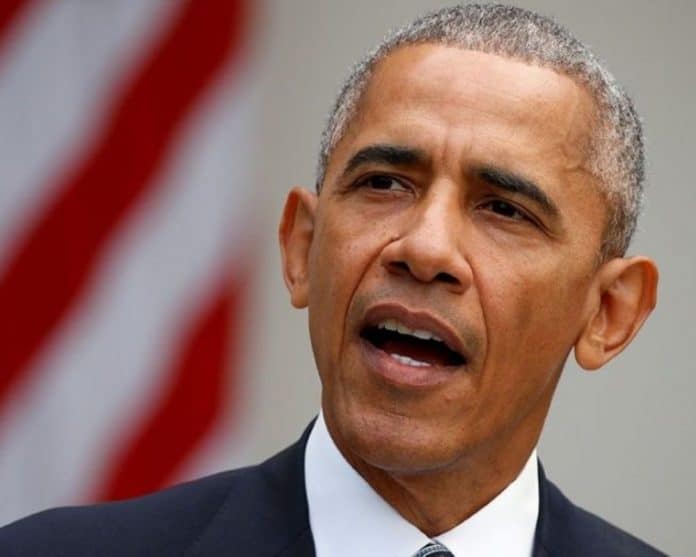 It's been a long-standing tradition for former presidents to stay away from criticizing those that follow them–but it went out on Tuesday when former President Barack Obama tore into President Donald Trump at an event in Central Florida.
"We've got one, week Orlando", the former president told a crowd of 273 cars at a drive-in rally at Tinker Field. As he criticized Trump,  Obama elicited boos from the crowd. Each time, he told them, "Don't boo, vote."
Right from the outset, Obama took aim at Trump saying he had hoped the president would at least be interested in the job but insisted "he hasn't shown any interest in doing the work, or helping anybody but himself and his friends, or treating the presidency as anything other than a reality show."
Obama said Trump craves attention.
"This week with everything that is happening, you know what he brought up? He was fussing about the crowd size at the inauguration again, saying his was bigger. Who is thinking about that right now? Nobody except him," Obama said.
Several times while talking about Trump, Obama's voice cracked almost into laughter as he seemed to be having a difficult time believing what he was talking about was serious.
"What's his closing argument? That people are too focused on COVID. He said this at one of his rallies. 'COVID, COVID, COVID,' he's complaining. He's jealous of COVID's media coverage! If he had been focused on COVID from the beginning, cases wouldn't be reaching new record highs this week," Obama said.
The former president spent much of his almost 40-minute speech talking about COVID-19 and the Trump administration's response to it.
"I lived in the White House for a while. It is a controlled environment. You can take some preventative measures in the White House to avoid getting sick, except this guy can't seem to do it. He's turned the White House into a hot zone," Obama said.
Obama called out White House Chief of Staff Mark Meadows for saying  "we are not going to control the pandemic" on CNN this weekend.
"Winter is coming. They're waving the white flag of surrender," Obama said, adding that the nation cannot afford four more years of this kind of "incompetence and indifference," insisting how to respond to the virus "is not that complicated" though the former president failed to offer more details.
Obama boosted his old running mate former Vice President Joe Biden, saying he can do a better job than Trump.
The former president told the constantly honking crowd of cars that Biden "believes everybody counts, believes everybody is important, and that empathy, that decency, that belief in other people, that's who Joe is." Obama even claimed that having Biden as his understudy made him a better president.
Obama admitted that the pandemic would have been challenging for any presidency, but said the current White House "completely screwed this up." He also tried to appeal directly to African-American voters, challenging Trump's assertion that he has done more for black people than any president since Abraham Lincoln.
"Who are these folks? What are they reading?" Obama asked.
Obama also singled out Jared Kushner, Trump's son-in-law, for recent comments that African-Americans have to want to be successful.
Sprinkled into the former president's speech were key phrases from past campaigns, including "si se puede"–Spanish for "yes we can"–and asking the crowd if they were "fired up and ready to go." After the speech, Obama visited a union hall to thank Biden volunteers for making phone calls.
Trump Victory Spokeswoman Emma Vaughn weighed in on Obama's visit to Orlando.
"With more than 22 million direct voter contacts in Florida alone, Trump Victory's permanent, data-driven ground game cannot be matched by Joe Biden's anemic efforts in the Sunshine State. Sending Barack Obama to stump for Biden for the second time in one week won't make a dent in the advantage we've built thanks to our field army and frequent visits from President Trump and his family," she said.
Reach Mike Synan at mike.synan@floridadaily.com.
Latest posts by MIKE SYNAN
(see all)