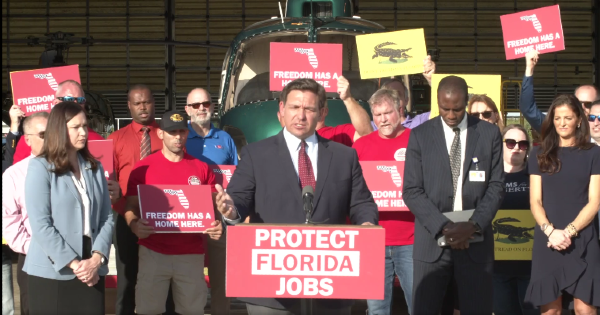 At the end of last week, Gov. Ron DeSantis called for the Legislature to meet for a special session in Tallahassee from Nov. 15 through Nov. 19 "to provide protections for Floridians who have lost their jobs or are having their employment threatened due to vaccine mandates."
On Friday, DeSantis weighed in on why he was calling for the special session.
"Your right to earn a living should not be contingent upon COVID shots," said DeSantis. "We have somehow gone from 15 days to slow the spread to 3 jabs to keep your job. In Florida, we believe that the decision whether or not to get a COVID shot is a choice based on individual circumstances, so we are litigating against the Biden administration and will be passing legislation in this special session to protect Florida jobs and protect parents' rights when it comes to masking and quarantines. The health, education, and wellbeing of our children are primarily the responsibility of parents. As long as I am governor, parents in Florida will play a strong role in determining what their kids are learning and how they're treated in school."
DeSantis asked for the Legislature to pass a bill which will "protect current and prospective employees against unfair discrimination on the basis of COVID-19 vaccination status and ensure robust enforcement for this protection; ensure that educational institutions and government entities are prohibited from unfairly discriminating against current and prospective employees, students, and residents on the basis of COVID-19 vaccination status; ensure that employees improperly denied employment on the basis of COVID-19 vaccination status can be eligible for reemployment benefits and, if needed, ensure that employees injured by a COVID-19 vaccination taken pursuant to a company policy are covered by workers' compensation; appropriate a sufficient amount of funds to investigate complaints regarding COVID-19 vaccination mandates and to take legal action against such mandates, including mandates imposed by the federal government; clarify that the Parents' Bill of Rights, Chapter 1014, Florida Statutes, vests the decision on masking with parents, not government entities, and that schools must comply with Department of Health rules that govern student health, including rules that ensure healthy students can remain in school; limit mandates by school districts on students or employees regarding COVID-19 and related mitigation measures;provide adequate enforcement mechanisms to ensure that Florida law is followed and the rights of parents are honored;
Direct the State to evaluate whether it should assert jurisdiction over occupational safety and health issues for government and private employees; repeal the authority for the State Health Officer to order forced injections or vaccinations under Section 381.00315, Florida Statutes, originally enacted in 2002; and create as necessary public records exemptions related to complaints and investigations described herein."
The two leaders of the Legislature–Senate President Wilton Simpson, R-Trilby, and House Speaker Chris Sprowls, R-Palm Harbor, quickly threw their support behind the governor's proposal.
"Over the last two years, Floridians have watched the freedoms of our friends and relatives in other states get stripped away one at a time," they said in a joint statement. "We will not stand by as the Biden administration imposes an illegal and unconstitutional nationwide vaccine mandate that robs the American people of the dignity of work.
"Under the leadership of Governor DeSantis and the Florida Legislature, Florida has been a beacon of hope, and we intend to keep it that way," they added. "We look forward to working with Governor DeSantis and our colleagues to craft, debate and pass thoughtful legislation that keeps Florida open for business and prioritizes people, parents and businesses over government.
"During the special session, we will do everything within our power as a state to protect Floridians from the unconstitutional, un-American, and morally reprehensible overreaches on the part of the federal government," they said in conclusion.
Democrats said there was no need for a special session and criticized the governor's proposal.
"Governor DeSantis has called lawmakers to join a nonsensical battle pitting the state of Florida against both the business community and the Biden administration. Instead of doing the people's work during a designated committee week, the Florida Legislature's time and attention has now officially been sequestered to what even Republicans have characterized as a 'no-win' battle against commonsense health and safety measures which aims to take freedom of choice away from business owners," said state Senate Minority Leader Lauren Book, D-Plantation.
"For the last two days, the state's largest employers, business leaders, and economists convened to address the real concerns facing Florida's economic development. Amongst all of topics discussed, absent was any mention of a desire for government to regulate business owners and deny their freedom to decide what's best for employees and customers. Senate Democrats will continue to stand up for the values, principles and policies that ensure Floridians can live freely and safely from both government overreach and threats to public health," Book added.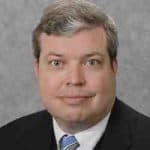 Latest posts by Kevin Derby
(see all)