Overshadowed by the gubernatorial contest and a key U.S. Senate matchup, the Florida state CFO race is starting to heat up.
Last week, state CFO Jimmy Patronis' campaign launched a new website hitting Democratic candidate former state Sen. Jeremy Ring. "RingsCriminalRing.com," noted the Patronis team, chronices "the donations Jeremy Ring has received from criminal and scandalous donor friends" and  "outlines the Florida Department of Law Enforcement's (FDLE) findings on how Senator Ring paid a Democrat operative to impersonate CFO Patronis in order to obtain his protected personal information."
Katie Strickland, a spokeswoman for the Patronis team, took aim at Ring.
"Senator Jeremy Ring is risky and reckless. His connections to criminal and scandalous donors yet again reveals his stunning lack of judgement. Florida can't risk its finances on reckless Jeremy Ring," she said.
The Patronis team also launched a new ad hitting Ring for his work as a lobbyist.
"Jeremy Ring. Sometimes a politician. Sometimes a lobbyist. At times, both," the narrator of the ad says.
For its part, the Ring campaign launched a website of its own "that highlights Jimmy Patronis' questionable ethics" and "shines a light on an ongoing ethics investigation into Patronis' misuse of taxpayer resources for political purposes, emphasizes his reliance on donations from the very insurance companies he is responsible for regulating, and outlines a slew of high profile criminal supporters."
Ring's campaign manager Anthony Pardal took a shot at Patronis on Friday.
"In just over one year Jimmy Patronis has re-defined CFO – and not in a good way. From his ethics investigation to his coziness to big insurance Jimmy Patronis has unfortunately become Florida's Chief Fraud Officer," Pardal said.
After serving in the Florida House and on the Public Service Commission, Patronis was tapped by Gov. Rick Scott in June 2017 to serve as state CFO after Jeff Atwater resigned the post to take a job at Florida Atlantic University (FAU).
Kevin Derby can be reached at Kevin.Derby@floridadaily.com.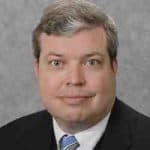 Latest posts by Kevin Derby
(see all)