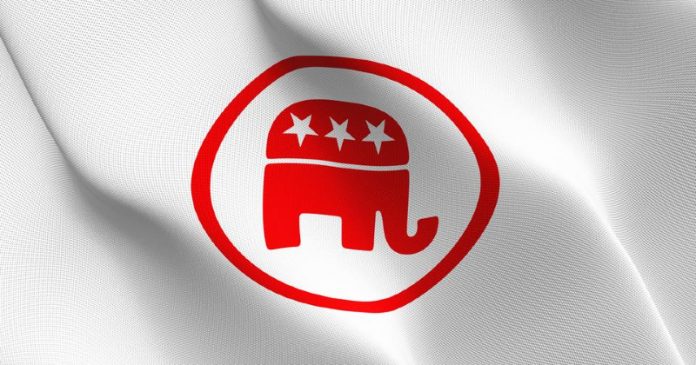 Ronna McDaniel secured a solid victory to serve an unprecedented fourth and final term leading the Republican National Committee (RNC). But a more difficult task lies ahead: unifying a fractured party disappointed by the underwhelming results of the last three election cycles.
McDaniel on Friday handily defeated her main challenger, the RNC's California national committeewoman Harmeet Dhillon, in a vote of 111 to 51. MyPillow CEO Mike Lindell received four votes. But Dhillon's campaign and her platform to reform the party attracted strong late support from powerful corners of the GOP. Florida Gov. Ron DeSantis, who won his November reelection in a landslide and who polls show is a strong 2024 Republican presidential contender, praised several of Dhillon's pledges and called for "new blood" and a "change" in party leadership. He made those statements in an interview with Charlie Kirk, a founder of the conservative Turning Point USA and a leader of younger grassroots Republicans, released in a video on Twitter Thursday.
In the aftermath of the November election, in which an anticipated red wave never materialized, Republicans have engaged in open and often contentious finger-pointing over what and who is to blame. Much of the 2022 midterm postmortems have focused on whether the quality of the Republican candidates was the most significant factor or perhaps an underperforming ground game, or whether Donald Trump and other GOP candidates suppressed early voting by constantly questioning the integrity of the process.
But the contested RNC chairmanship race, which culminated in a secret vote at the luxurious beachside Waldorf Astoria in Orange County on Friday, also served as an open forum for airing scores of complaints.
At times, the blame game and the contentious chairmanship contest have spurred personal attacks – from both sides. It also has fueled deep divisions between "the grassroots" base of GOP supporters across the country and what they derisively refer to as the Washington "establishment" with new alliances.
In the weeks leading up to the winter GOP confab, Dhillon's supporters accused the RNC of spending too much money on lavish travel and high-paid D.C. consultants, some of whom have gotten rich over the last three election cycles while producing disappointing results.
McDaniel, a party chair hand-picked by Trump in 2017, announced in November that she had secured 100 of the 168 voting RNC members. But in the past few weeks, she said that number had grown to 107, even as she has scrambled to ensure her support remained strong.
After her victory, McDaniel urged all party members to put divisions and resentments aside so they can train their fire on President Biden and Democrats.
"We need all of us," McDaniel told the RNC members. "We heard you, grassroots, we know. We heard Harmeet – we heard Mike Lindell … [W]ith us united together, the Democrats are going to hear us in 2024."
She also graciously thanked Dhillon and Lindell, stressing that she "cannot say enough good things" about both.
Hours after the win, McDaniel told Fox News that it would be her last term and that she planned to go on a "grassroots tour" of the country and invited Dhillon and other leaders in the party to join her.
"I would love for [Dhillon] to come with me. I want other leaders in our party to come with me. But they don't always understand what the RNC does. And that's our job to go out. But we love the grassroots. We appreciate them. We need them to go knock doors and be poll watchers. And I'm going to be traveling the country, getting them ready for beating the Democrats because we can only do that united."
But outside the hotel ballroom after the election results were just announced, Dhillon supporters were far from ready to give up the fight.
Among them were Kirk, who told RealClearPolitics that between 90 percent to 98 percent of Republican rank-and-file voters want a change in direction, but were thwarted by RNC members who said, in essence, "Too bad, you're not in the country club."
"Our small but mighty force of young people, patriots, grassroots folks are going to replace each and every one of the 111 who decided to tell their voters 'We don't care what you say,'" he added.
Kirk conceded that he didn't know how successful such an effort would be but pledged to produce an impact on the makeup of the party apparatus. Others were more colorful in venting their disgust, citing several recent polls showing that Lindell and Dhillon had the support of the vast majority of Republican voters nationwide, while McDaniel's backing has been meager.
"This was a hostile takeover … [It's a] complete and utter disregard of the grassroots of this party that support them," John Fredericks, a conservative talk radio host, snarled. "They just gave them the middle finger, said 'The hell with you. We're going to continue to do what we do.' And they expect us to keep giving them money and support them? Newsflash: Ain't gonna happen."
A poll released Thursday by Rasmussen Reports found that 30 percent of likely voters wanted Lindell to be the next RNC chairman, compared to 20 percent who backed Dhillon and 15 percent that supported McDaniel. Another 15 percent said they didn't support any of the three candidates, while another 21 percent were undecided.
After the loss, Dhillon herself promised to support McDaniel to heal the party divisions, but that didn't mean she is abandoning her reform platform or forgetting some of the tactics she said were used against her campaign.
"The results were not what we and our hundreds, thousands of supporters around the country were hoping for, and I think the party is going to have to deal with that fallout of being in a disconnect from the grassroots," Dhillon told reporters after the election. "That said, I pledged throughout this campaign to work hand in hand with the party and with the winner of this election, whoever it was, and I intend to honor that pledge and continue to work hard with Ronna and with all the other leaders in the party, for the future of our party."
Despite the ready concession, Dhillon didn't hold back in criticizing the way McDaniel ran her campaign, accusing her of using party resources to help shore up her support.
"Virtually the entire apparatus of the Republican Party staff that's close to the chairman worked on [McDaniel's] campaign, and Richard Walters [the former RNC chief of staff] made phone calls and worked on this campaign," she told reporters. "And no, that's not fair. That is using corporate resources for personal benefit."
Even before the vote was held, McDaniel supporters were firing back at Dhillon, blaming her for "scorched-earth" tactics, including her supporters sending out the personal emails of all RNC members, what some criticized as a form of "doxxing."
One influential RNC member told RCP that the Dhillon campaign would have been more effective if she hadn't run it in such a "Shermanesque, burn-it-all-down way." The RNC member compared the contentious election to the intra-party fight after the 2016 GOP presidential primary in which Texas GOP Sen. Ted Cruz refused to endorse Trump in his convention address after losing to him in the primary.
Dhillon has said she did not orchestrate and does not condone the distribution of the RNC members' emails, though she noted that her email has long been public on her law firm's website and enjoys hearing feedback from other Republicans.
"I read the thousands of emails I get … the party is not united. But it's our job to try to unite the party, and that's going to mean changes at the RNC," Dhillon said. Nobody's going to unite around the party the way it is, which is seemingly ignoring the grassroots of the party, refusing to take the steps necessary to help us actually win," including investing more resources in the ground game and encouraging early voting.
While the surrogate sniping continued before and after the election, McDaniel repeatedly pleaded for the party to come together and put aside their differences so they could train their fire on the real foe: Democrats and the ramp-up for the 2024 election.
"This isn't about me. This is about we – our country and what we are doing together," McDaniel said, before quoting from the Bible, Matthew 12:25:
"Every kingdom divided against itself is brought to desolation, and every city or house divided against itself will not stand," she recited. "Let's leave this meeting ready to come together" to fight Joe Biden and the Democrats.
Outgoing RNC co-chair Tommy Hicks also pressed party members to begin a new chapter after the contentious chairmanship contest.
"My hope is for a GOP united," he told the gathering. "Healthy debate is a good thing, and it's a critical part of democracy, but the minute we leave here today we should commit to working together" to promote our shared goals.
With the focus now turning to the 2024 presidential race, another fracture at the RNC winter confab was on full display: Republicans supporting Trump's presidential campaign, and those who have tired of the controversies surrounding him and are ready for an alternative.
In an interesting twist, many well-known Trump loyalists were supporting McDaniel in her reelection while a majority of those purporting to represent the grassroots were backing Dhillon or Lindell.
On hand at the RNC winter meeting and leading some of the sessions was Kellyanne Conway, previously a top aide to former President Trump. Another prominent McDaniel surrogate was Dave Bossie, Trump's deputy campaign manager in 2016 who serves as Maryland national committee chairman of the state GOP party. Both were actively whipping for McDaniel.
Dhillon, an attorney who has worked for Trump herself, would not disclose whom she planned to endorse in the 2024 GOP primary, even though she was encouraged by the praise DeSantis had offered her just one day earlier.
She also noted that she does not know DeSantis personally and did not seek out his backing. In explaining why she declined to publicly disclose her 2024 candidate of choice, she cited her continued role as an official party member. "If the party is not perceived as a neutral body and a level playing field for all presidential candidates that further disengages our voters," she said.
She also argued that the intra-party healing will not come quickly or easily without big changes, reforms she's committed to helping implement.
"I'm praying that we will have two years [to do it], and by the time of the 2024 election, we can fulfill that promise," she said.
Susan Crabtree is RealClearPolitics' White House/national political correspondent. This article was originally published by RealClearPolitics and made available via RealClearWire.
Latest posts by Guest Columnist
(see all)