Fans are going to be fans. This much we knew even before the pandemic hit but what we saw Saturday should sound alarm bells as games continue to be canceled and players are at risk for catching COVID-19.
It was a win of epic proportions for the Florida Gators, finally knocking off arch-rival Georgia 44-28 in Jacksonville but the game wasn't as close as the final score. Here is a screenshot I took just after the game. Does this look safe to you?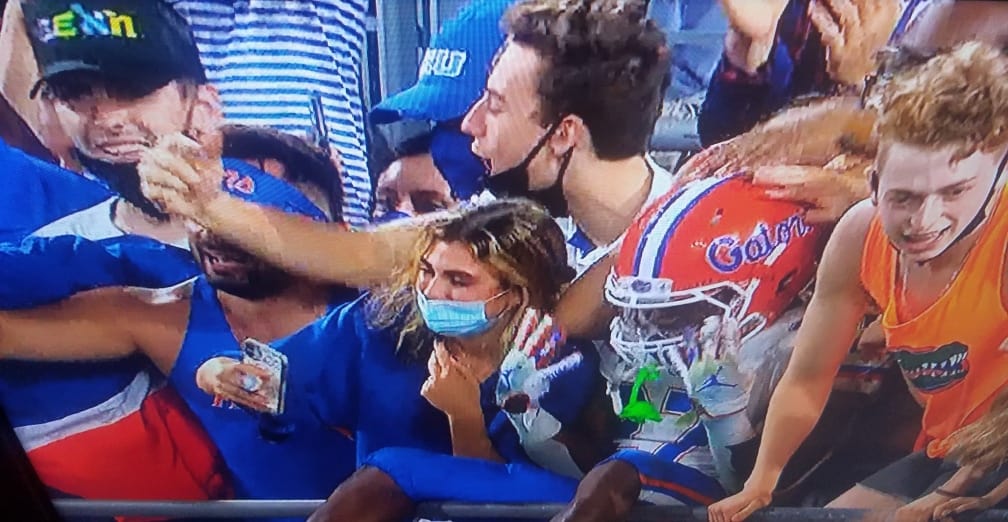 Florida is just coming off having an outbreak and its entire season shuffled around–and there is a player right in the middle of the madness. What is Dan Mullen teaching the players? Did they learn anything at all from the previous outbreak?
The Gators are finally out from under the shadow of the Bulldogs. Now let's hope they can stay healthy and make a run to the SEC title game.
In South Bend, we saw a clash for the ages. It took more than four hours–and even delayed the much-anticipated start of Saturday Night Live–but Notre Dame ended Clemson's 36 game regular-season win streak with a 47-40 win in double overtime. What happened next? Of course, the fans stormed the field and it wasn't safe.
Notre Dame had a major campus outbreak at the start of the semester and their president contracted the disease–but the students rushed onto the field. I hope for college football's sake neither of these teams has games interrupted moving forward.
About that Notre Dame-Clemson showdown, four hours and eight minutes is just too long for a football game. The biggest reason for its length was poor officiating. Both teams got hosed by the refs more than once. If you have to review virtually every key play, the officials simply are not getting the calls right. The ACC needs to do better.
TOP 25 FOR THE WEEK BEGINNING NOVEMBER 
ALABAMA (6-0) They look like a sure bet for the SEC Championship game.
NOTRE DAME (7-0) Down seven with less than two minutes to go, the Irish drove to tie from their own 9-yard line. That was the most impressive drive I've seen all year.
OHIO STATE (3-0) Tempted to put Cincinnati here. The teams the Buckeyes have beat do not look good.
CINCINNATI (6-0) SMU win looks great and they blasted Memphis and Houston.
TEXAS A&M (5-1) Only team to beat Florida and the Aggies are getting better each week.
CLEMSON (7-1) Their defense is not national championship level. Everything else is.
FLORIDA (4-1) Got that UGA monkey off their back, now the schedule eases considerably.
BYU (8-0) I can't give them full credit for whipping Boise State's third-string QB.
INDIANA (3-0) A program which is now better than Michigan and Penn State!
LIBERTY (7-0) An amazing finish at Virginia Tech for a signature win. VT blocked the game-winning FG and ran it back for a TD to win–but called timeout before the play. Liberty calmly made the next kick.
COASTAL CAROLINA (7-0) They finish the season with Liberty in what is shaping up as a big game.
NORTHWESTERN (3-0) Not that impressed with their wins, but have done it three times in a row.
OREGON (1-0) Does recency bias have me putting them over Wisconsin?
WISCONSIN (1-0) Seems like ages ago when freshman QB Graham Mertz burst onto the scene.
MIAMI (6-1) A very shaky win at NC State, but D'Eriq King was sensational.
PURDUE (2-0) Game with Wisconsin was canceled and won't be made up.
OKLAHOMA STATE (5-1) Playing better as the season moves on, but still has to face Oklahoma.
SOUTHERN CAL (1-0) Took a ridiculous comeback to beat Arizona State.
MARSHALL (6-0) Appalachian St. still their best win of the season.
LOUISIANA (6-1) Iowa State win looks better and better with each week.
SMU (7-1) Texas transfer Shane Buchele makes them competitive with anyone.
GEORGIA (4-2) Just not enough offense to hang with the big dogs.
OKLAHOMA (5-2) Back to putting up big scores after faltering early.
AUBURN (4-2) If QB Bo Nix can play more consistently, look out.
SAN JOSE STATE (3-0) How about some love for knocking off rival San Diego State?
Reach Mike Synan at mike.synan@floridadaily.com.
Latest posts by MIKE SYNAN
(see all)