As he tries to keep afloat in his third bid for Congress, former state Rep. Fred Costello got some help from his old colleague state Rep. Bob Cortes, R-Longwood.
On Tuesday, Cortes endorsed Costello who is taking on businessman, veteran and former Dick Cheney aide Mike Waltz and businessman and veteran John Ward in the Republican primary. Cortes came out swinging at Ward, taking aim at comments he made at a forum in Mount Dora in which he said Puerto Ricans should not be allowed to vote in the Sunshine State.
"As a colleague, as a friend, and as a Puerto Rican American, I strongly support Fred Costello's candidacy for Congress. Sadly, his primary opponent has made it clear he does not believe Puerto Ricans should be allowed to exercise their rights as American citizens," Cortes said as he threw his support to Costello. "This is an outrage. No candidate for office in this great country should be so woefully ignorant of the Constitution and the rights it protects for American citizens. Electing a candidate like that is dangerous and would be a disservice, not just to the Puerto Rican Americans he would disenfranchise, but to all freedom-loving Americans.
"Thankfully, Fred Costello has made it clear that he holds the opposite view, because he understands our Constitution and the rights it gives Puerto Ricans and all Americans, among them the right to register to vote and to move anywhere they please within the United States," Cortes added. "I urge all District 6 voters to reject prejudice and ignorance and support Fred Costello."
In the meantime, Costello has some catching up to do. Ward had almost $710,000 in the bank at the end of the first quarter while Waltz had more than $653,000. Costello had less than $16,000 on hand.
This marks Costello's third bid for Congress. He placed behind Ron DeSantis in the Republican primary back in 2012 but bounced back to reclaim a seat in the Florida House in 2014. After one term, Costello ran for Congress again in 2016 when DeSantis was running for the U.S. Senate. But after U.S. Sen. Marco Rubio, R-Fla., decided to run for a second term at the last minute, DeSantis opted to run for a third term in the House and Costello stayed in the race. DeSantis routed Costello in the primary.
Dr. Stephen Sevigny, former Amb. Nancy Soderberg who served on the National Security Council under President Bill Clinton and attorney John Upchurch are running in the Democratic primary.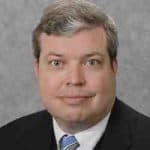 Latest posts by Kevin Derby
(see all)