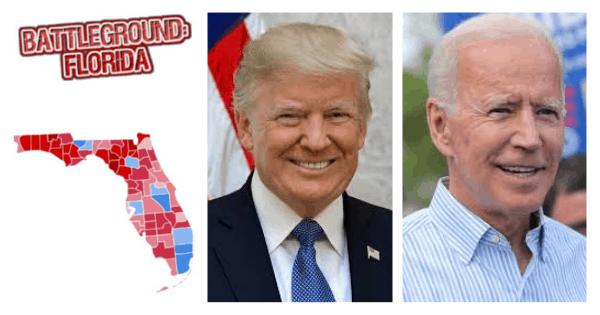 With 29 electoral votes at stake a less than 50 days to election day, Florida is once again shaping up to be one of the most highly-contested states for President Donald Trump and former Vice President Joe Biden.
Trump enjoys strong support throughout many of Florida's rural counties, but he'll need strong support in several of the more competitive counties to successfully defend his first victory in the Sunshine State. In 2016, Republicans saw four counties transition from supporting President Barack Obama to supporting then-candidate Trump. Those counties were:
Jefferson County
Monroe County
Pinellas County
St. Lucie County
In addition to those four flips, one county barely maintained its "red" status after 2018: Duval County. Democrats continue to eye Duval County since Duval was one county where former Tallahassee Mayor Andrew Gillum narrowly won more votes for governor than Ron DeSantis, even as DeSantis went on to win the Gubernatorial race. Voters under 35 could be key on the First Coast. A recent influx of younger workers in tech industry careers could make these voters among Trump and Biden's most targeted, since they can tip the state and ultimately, the nation, for or against a Trump re-election.
In 2016, Trump edged-out Hillary Clinton among Duval County voters by a margin of 49 percent to 47.5 percent, with the Libertarian Party'a nominee Gary Johnson taking 2.6 percent of the vote. The latest Monmouth Poll of registered voters in Florida reported 50% for Biden and 45% for Trump, while 3% were undecided, 2% supported Libertarian Candidate Jo Jorgensen and under 1% supported Green Party candidate Howie Hawkins.