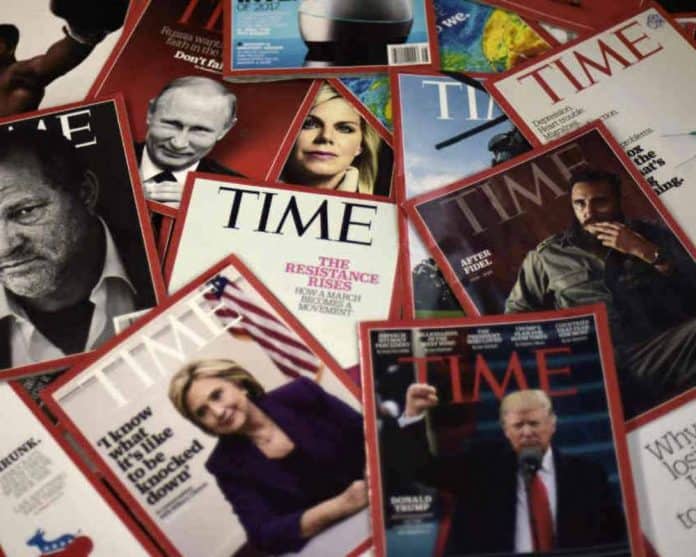 BY MARK SERRANO
Time magazine was always going to use its 2018 Person of the Year issue as a way of attacking President Donald Trump. That much is clear from the list of finalists.
According to its editor, Time ultimately chose a group of journalists because "manipulation and abuse of truth is really the common thread in so many of this year's major stories."
The magazine's description of the journalists as "guardians" in "the War on Truth" is clearly intended to evoke the cherished liberal narrative about President Trump's supposed dishonesty while giving Time the opportunity to indulge in the sort of self-congratulatory grandstanding that has become so common among liberal reporter-activists in the age of Trump.
"For all the insults hurled by the president at the press, rhetoric which has been deployed by dangerous actors around the world, the U.S. remains a beacon for truth and free expression," Time explains in a particularly revealing portion of its rationale.
While its selection of "The Guardians" enabled Time to use its brief once-a-year window of relevance as a not-so-veiled swipe at President Trump, the magazine's editors made sure that each of the other options on their shortlist would have provided the same opportunity.
One possibility was Robert Mueller, leader of the notorious "witch hunt" that has spent nearly two years and tens of millions of dollars failing to find evidence that the Trump campaign colluded with Russia in the 2016 election. As if that weren't enough, Time also considered giving the title to Russian President Vladimir Putin.
Another finalist was Christine Blasey Ford, the woman whose unsubstantiated allegation against Supreme Court Justice Brett Kavanaugh turned his confirmation into a political circus and plunged the country into weeks of acrimony.
The list also included two entries that would have served to push an obvious policy agenda. One was "Separated Families," which would have been an undisguised and emotionally-driven critique of the Trump administration's efforts to secure America's borders, and the other was "March for Our Lives Activists," the movement of high school students that held a rally in Washington, D.C. to demand gun control.
There was also South Korean President Moon Jae-in, who has repeatedly undermined President Trump's efforts to achieve North Korean denuclearization, as well as "Black Panther" director Ryan Coogler and royal spouse Meghan Markle, either of whom would likely have been seen as a "culture war" salvo directed against the president.
Of course, the list also included President Trump himself, though Time's treatment of Donald Trump when it named him Person of the Year for 2016 leaves little doubt that his selection this year would have elicited a similarly disparaging assessment of his impact.
In the end, Time didn't have to attack President Trump and his conservative supporters directly, because its editors had the luxury of choosing from a list of finalists that was carefully curated to ensure that the eventual choice would fit an anti-Trump narrative, one way or another.
Mark Serrano is the President and CEO of ProActive Communications and Senior Advisor to Donald J. Trump for President, Inc.
(Sponsored content)


Latest posts by Guest Columnist
(see all)