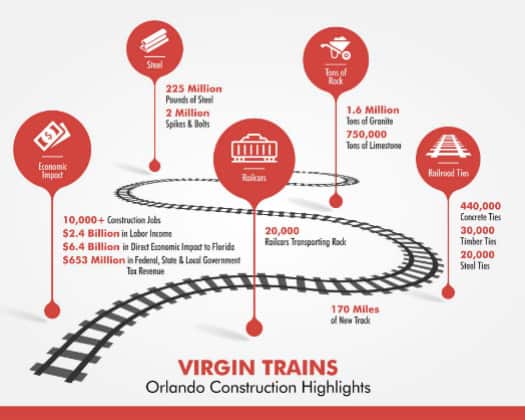 Below is a release from Brightline and Virgin Trains USA: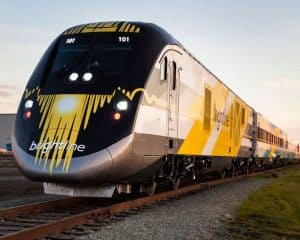 Virgin Trains USA, formerly Brightline, announced today the rail construction contractors for Phase 2 expansion between Orlando and South Florida, representing a total private investment of $4 billion. Phase 2 contractors are the Hubbard Construction Company, Wharton-Smith Inc., The Middlesex Corporation, Granite and HSR Constructors. These five contractors will be responsible for the development of 170 miles of new track into the completed state-of-the-art intermodal facility located in the new South Terminal at the Orlando International Airport (MCO).
"Connecting Central and South Florida will bring thousands of jobs today and by modernizing infrastructure, we will strengthen Florida's economy for decades," said Patrick Goddard, President of Virgin Trains USA. "For a project of this scope and magnitude, a world-class construction team has been assembled to undertake this tremendous assignment and we congratulate them helping us make history."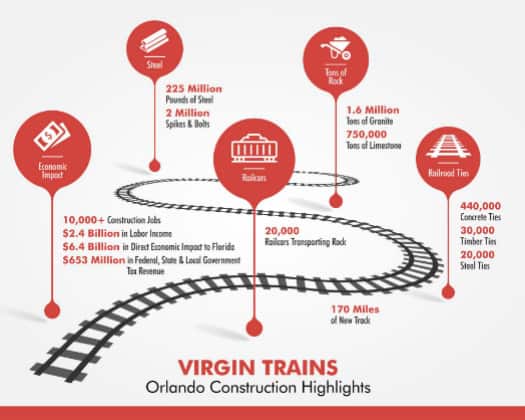 Construction of Phase 2 encompasses four zones, with Zone One and Zone Two work beginning today, which includes the area of the Orlando International Airport and the Virgin Trains Maintenance Facility. Full scale construction on Zone Three and Zone Four is imminent. This monumental infrastructure project will include the laying of 490,000 ties and transporting 2.35 million tons of granite and limestone by 20,000 railcars. Additionally, approximately two million spikes and bolts will be hammered and put in place over the next 36 months. During this process, Virgin Trains USA Phase 2 will generate more than 10,000 jobs and over $650 million in federal, state and local tax revenue.
Phase 2 construction by the numbers
Construction will be conducted in four zones between Orlando and West Palm Beach.
Zone One is comprised of approximately 70 acres located one-mile south of Orlando International Airport and will be overseen by Hubbard Construction Company and Wharton-Smith Inc.
Hubbard Construction Company is a century old Central Florida based General Contractor specializing in complex highway projects, site development, bridges, asphalt paving and utilities. Virgin Trains USA enlisted Hubbard to perform the land clearing, force main relocation, mass earthwork including surcharging for the Vehicle maintenance Facility to be located just south of the Orlando International Airport.
Headquartered in Sanford, Fla., Wharton-Smith Inc.'s expertise lies in general contracting preconstruction, design-build and construction management. Hubbard will mobilize in May 2019 to begin the extensive site preparation works, and Wharton Smith will follow with initiation of building construction activity in early 2020.
"For 35 years Wharton-Smith has dedicated itself to all the things that make our hometowns thrive and the Virgin Trains USA project is exactly that.  Infrastructure is the backbone of all communities and this project will bring advancements long awaited here in Central Florida. We like to be involved in projects that improve our communities – in fact improving the quality of life where we live, work and play is what we call the Wharton-Smith way.  We cannot wait to get started," said Wharton-Smith President and CEO Ron Davoli.
Zone Two is a 3.5 mile section in the heart of Orlando International Airport (OIA). Middlesex is an integral part of Virgin Trains USA's expansion construction and the company's scope of work will include clearing land, building drainage structures and pump stations, utility relocation, excavation and rail bed embankment, trench and bridge construction, track and signalization installation, and reconstruction of one of the airport interchanges.
The Middlesex Corporation designs, builds and reconstructs highways, bridges, marine, rail and transit facilities and provides midstream gas and electrical transmission/distribution construction services.
"The Middlesex Corporation is proud to partner with Virgin Trains USA on construction of Phase 2 expansion to Orlando International Airport. Since 1972 Middlesex has been safely building America's infrastructure and this exciting new project aligns perfectly with our continued growth in Florida. We are proud to bring our infrastructure expertise to this project to expand transit options for Floridians and help further fuel the economic growth of the region," stated The Middlesex Corporation Chairman and CEO Robert W. Pereira.
Zone Three is approximately 35 miles of rail alignment following the Highway 528 corridor between OIA and Cocoa. Virgin Trains USA has contracted with Granite Construction Company for approximately 300,000 cubic yards of excavation, 5.4 million cubic yards of embankment fill, 865,000 square feet of mechanically stabilized earth retaining wall, 100,000 lineal feet of piling, 18 new bridges, three underpasses, drainage installations, track and signalization installation, and 60 track miles of class VII rail construction.
Granite (NYSE:GVA) is a full-suite provider in the transportation, water infrastructure and mineral exploration markets.
"As one of the nation's leading rail and transit contractors, Granite is proud to be a partner on this iconic project, which once completed, will provide Florida residents and visitors with a world-class transit system," said Granite President and Chief Executive Officer James H. Roberts.
Zone Four includes the upgrade of 129 miles of existing track from Class IV to Class VI (allowing service up to 110 MPH). Virgin Trains USA has contracted with HSR Constructors for most of the work within this zone, including the shift of 298,000LF (56 miles) of existing track, the construction of 100 miles of new Class VI track within the existing right of way, the rehabilitation of 28 miles of existing sidings, the installation of approximately 40 new turnouts and crossovers and relocation of another 40, the relocation of fiber duct parallel to the ROW, the installation of new signal systems including Positive Train Control, the construction of second main track, modification/replacement of surfaces and the upgrade of crossing signal protection at 155 locations, and the replacement of 19 bridges.
HSR Constructors is a joint venture of three of the leading railroad and transit contractors in the nation: Herzog, Stacy and Witbeck and Railworks.
Herzog is a national rail industry leader offering public and private entities turnkey solutions and services for the construction, operations, and maintenance of commuter rail, light rail transit, streetcar, and freight rail systems.
Stacy and Witbeck has a reputation for being an ethical and trustworthy partner on complex transit and transportation projects and is one of the country's largest heavy civil contractors and a top builder of light rail, streetcar, and commuter rail systems across the United States.
RailWorks is North America's leading rail infrastructure solutions provider, serving the construction needs of Class I and shortline railroads, transit agencies and rail-served industrial customers.
"As the lead of HSR Constructors, Herzog is eager to partner with Virgin Trains USA on this landmark project that will connect central and South Florida's passenger rail network in unprecedented fashion. Zone Four is a significant undertaking that will be delivered using HSR Constructors' collective local and national transit experience. This is an exciting project that will redefine what it means to travel within Florida for locals and visitors," said HSR Constructors' Executive Scott Norman.
Construction is expected to be complete and service will begin between South Florida and Orlando in 2022.
Latest posts by News Desk
(see all)