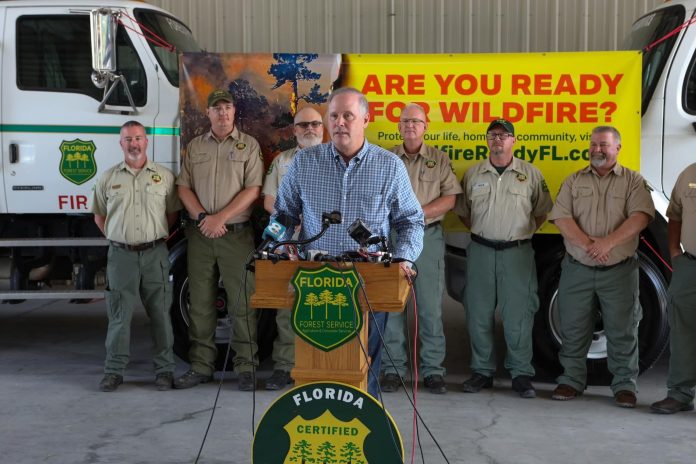 On Thursday, state Agriculture Commissioner Wilton Simpson and the Florida Forest Service held a press conference to highlight Florida's current wildfire conditions and urge residents to be wildfire ready.
Historically, Florida's year-round wildfire season peaks in April, May, and June, and the National Interagency Fire Center has predicted above normal wildfire potential for Florida this season.
"With above normal wildfire potential this wildfire season, it's more important than ever for Floridians to be aware of and prepared for the devastating effects of wildfire," said Simpson. "I'm urging all Floridians to be wildfire ready and to use extra caution, because we all want to keep our firefighters and communities safe this wildfire season."
Since January, over 1,000 wildfires have burned more than 35,000 acres in Florida. Last year, a total of 2,500 wildfires burned more than 141,000 acres across the state. The Florida Forest Service is encouraging the public to "Be Wildfire Ready" — know Florida's outdoor burning laws, prepare your yard, prepare your home, and prepare an emergency supply kit. As Florida's population increases, so does the wildland urban interface — the zone where homes and businesses are near forests or wooded areas that are both fire-dependent and fire-prone. While Florida is the lightning capital of the U.S., the leading cause of wildfires in the state is people.
"We are now entering the peak of wildfire season, which means Floridians should take extra precaution during these drier months to protect people and property," said Rick Dolan, the new director of the Florida Forest Service. "The Florida Forest Service encourages Floridians to be Wildfire Ready by preparing your yard, home, and emergency kit, and knowing Florida's outdoor burning laws."
There are many tools that can help reduce the chances of a catastrophic wildfire, including creating defensible space, safely burning yard waste, utilizing prescribed burning, and reporting suspicious arson activity. To learn how to protect your life, home, and community, visit BeWildfireReadyFL.com. To view current wildfire conditions and activity, visit FDACS.gov/CurrentWildfires.
Florida Wildfire Awareness Week, the first week of April, was established in recognition of Florida's devastating 1998 wildfire season when more than half a million acres burned, and 337 structures were damaged or destroyed by wildfires.
The Florida Forest Service, a division of the Florida Department of Agriculture and Consumer Services, manages more than 1 million acres of state forests and provides forest management assistance on more than 17 million acres of private and community forests. The Florida Forest Service is also responsible for protecting homes, forestland, and natural resources from the devastating effects of wildfire.-p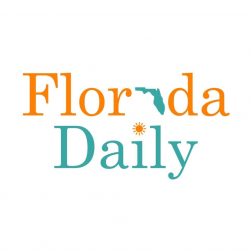 Latest posts by Florida Daily
(see all)