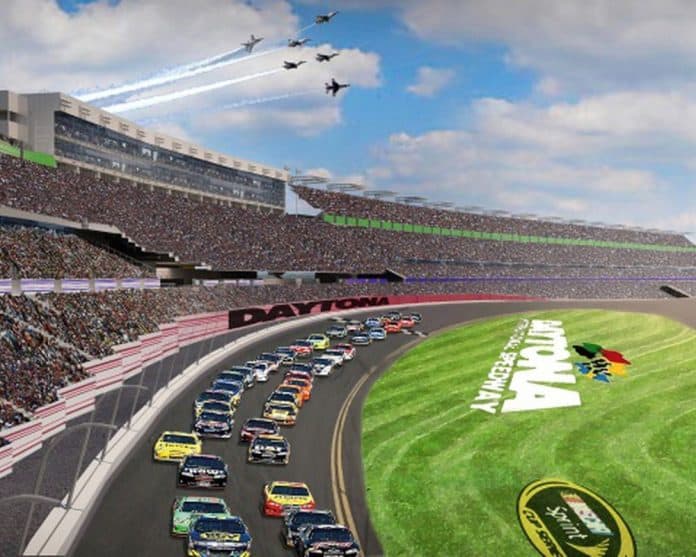 Daytona Beach is riding high after a successful return to normal events, highlighted by two weeks at the Daytona International Speedway (DIS)–but can it last, and what will the future look like at the track?
DIS President Chip Wile talked with Florida Daily on whether or not things can ever return to normal, especially as it relates to whether races in February will be confined to one week or two.
Traditionally, Daytona Beach has hosted two weeks of racing–better known as Speedweeks–leading up to the Daytona 500. Visitors across the country escape the winter weather and spend time in sunny Florida while taking in the races. This year, it was Speedweek–and note the singular tense. With Daytona hotels and retailers struggling because of the pandemic, merchants want to see the schedule return to normal but Wile isn't sure what will happen yet.
"We continue to evolve our schedule, not just here at Daytona but across the enterprise. So you never say never, but it certainly worked," Wile said.
Wile said the Busch Clash, traditionally the first race, will return to Daytona's road course and he pointed to this year's contest.
"Holy smokes, you couldn't have asked for a better finish," Wile told Florida Daily, pointing to the race where the top two cars crashed on the last turn of the last lap, allowing Kyle Busch to move up from third place to win.
DIS was also the site of a road course race the week after the Daytona 500 which was the second points race of the season but it may not return. Wile said the track would never give up a superspeedway event in favor of the road course.
Now Wile and the DIS team are looking forward to Bike Week in March.
"We are really proud that we are going to be able to continue to host events with fans, but we are doing it safely," Wile said, praising Daytona Beach Mayor Derrick Henry for allowing these kinds of events to go on. The track will host a multitude of events during Bike Week, including Supercross.
"It is making an investment in our fan. We have to get back going. We have to have some sense of normalcy around people's lives, and I think sporting events are an important part of people's lives," Wile said.
Wile is also looking forward to the end of summer and the fall as the Coke Zero Sugar 400 moves from the July 4th weekend to the last weekend in August.
"We have 60 plus years of tradition on the 4th of July weekend, but we are also trying to reinvent and revolutionize our business," Wile explained, adding that, with tourists already at the beach in the summer, moving the race will be beneficial to all.
"It is on a weekend right after children return to school. So you are not going to get as many out-of-town visitors as you would on 4th of July. I think actually moving it is additive to the community as opposed to detractive," Wile added, hoping to see more fans over summer.
The Speedway underwent a $400 million renovation in 2016 and, unlike other sports stadiums in the state, it did not get any taxpayer dollars. Wiles said those renovations have helped during the pandemic since it was easier to create wider seats, aisles and concourses. The track said it turned a profit last year, even as it was forced to limit the number of spectators.
Reach Mike Synan at mike.synan@floridadaily.com.
Latest posts by MIKE SYNAN
(see all)