U.S. Sen. Rick Scott, R-Fla., is looking to move from the state to the national level.
Last week, Politico, The Hill and other outlets reported that Scott is hoping to become the chairman of the National Republican Senate Committee (NRSC) on Tuesday. Currently, Scott is the only Republican senator to declare for the post which would have him oversee GOP efforts in the 2022 Senate races.
Scott has been able to self finance his 2010 and 2014 gubernatorial bids and his 2018 challenge to then U.S. Sen. Bill Nelson, D-Fla. However, the NRSC chairmanship would help boost his ties with key fundraisers and donors while expanding his national profile.
With buzz growing that Scott could be looking at a presidential bid in 2024, the NRSC chairmanship could help his ambitions, be they focused on the White House or moving up the leadership ladder in the Senate. Back in the late 1950s and early 1960s, U.S. Sens. Barry Goldwater, R-Ariz., and Everett Dirksen, R-Ill., led GOP Senate efforts. Goldwater was the Republican nominee who challenged President Lyndon B. Johnson in 1964 while Dirksen went on to be the GOP's leader in the Senate. More recently, before they served as Senate majority leader, both former U.S. Sen. Bill Frist, R-Tenn., and U.S. Sen. Mitch McConnell, R-Ky., led the NRSC.
At the start of the year, Scott even tried to involve himself in the presidential race, running a TV spot and going after former Vice President Joe Biden while accusing Democrats of "botching this impeachment charade." The ad was released in the final days of the Iowa caucus. While Biden placed fourth in Iowa, he went on to win the Democratic nomination.
"The real story here is the corruption Joe Biden got away with," Scott said in the ad, accusing Democrats of "spending so much time in a coverup for Joe Biden."
The Biden camp fired back, insisting Scott's attack was "outrageous" and offering reminders how the Florida Republican was forced to plead the Fifth Amendment several times when he led Columbia/HCA. That company pled guilty to 14 felonies and paid more than $600 million in fines in Medicare and healthcare fraud cases.
"Senator Scott is using his own campaign funds to air TV ads in Iowa this week attacking Joe Biden. He's promoting the same vicious lies and debunked conspiracy theories promoted by Donald Trump," Biden's team insisted. "The truth clearly does not matter to Senator Scott. He's using this impeachment trial as a means to kiss up to Donald Trump and spin the narrative away from the President's abuse of power.
"But corruption is no stranger to Senator Scott. Companies that Scott ran admitted to committing felonies. Then as governor, Scott had conflicts of interest," Biden's team added. "We can't let someone as corrupt as Senator Rick Scott make bogus and debunked claims about Joe Biden."
Scott then turned his attention to New Hampshire, home of the first presidential primary, stumping for Trump in the Granite State back in February.
If Scott is selected to lead the NRSC, he will have time to focus on both those key states as U.S. Sen. Chuck Grassley, R-Iowa, and U.S. Sen. Maggie Hassen, D-NH, face the voters in 2022. So does U.S. Sen. Tim Scott, R-SC, in the key primary state of South Carolina.
Kevin Derby at kevin.derby@floridadaily.com.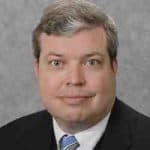 Latest posts by Kevin Derby
(see all)