Last week, Florida Senate President Wilton Simpson, R-Tribly, launched his bid to be the state's next agriculture commissioner with momentum on his side.
Even before he entered the race, Simpson had the support of former President Donald Trump.
Back in May, Trump threw his support behind Simpson.
"Wilton Simpson has done an outstanding job as president of the Florida state Senate, and I hope he runs for Florida agriculture commissioner in 2022—he will have my complete and total endorsement! Wilton has been a great supporter and worked hard to get many good conservatives elected in Florida. He helped us grow our Republican majority in the Florida state Senate, and gave us a historic win in Florida in the 2020 presidential election," Trump said. "Wilton will never let the great people of Florida down!"
Despite serving in the Senate for almost a decade, Simpson played up his background in the private sector while stressing his conservative views.
"I'm a fifth generation Floridian and proud to be born and raised in the Sunshine State. But, for millions, Florida isn't just a place—it is a choice: A choice for lower taxes, limited government, personal freedom, and quality of life," Simpson insisted. "I've built businesses from the ground up. I've balanced a hundred billion dollar budget. But the four words that make me proudest are these: I am a farmer.
"For too long, too many politicians told us to vote for them and settle for less. They say it's either low taxes or great schools. But I know we can have both. They say it's either family farms or clean water. But I know we can have both. They say it's either Florida's consumers or Florida's businesses. But I know we can protect both," Simpson added. "Our problems are real. The stakes are high. And the solutions require someone who knows how to roll up his sleeves and get the job done. As a lifelong farmer, I know that the seeds we plant today – for our families, our businesses, and for our communities – are essential to tomorrow's opportunities to grow a stronger Florida."
Current Agriculture Commissioner Nikki Fried, the only Democrat holding statewide office in Florida, is currently running for governor in 2022.
Simpson should have little difficulty in the primary though Rick Olle and James Shaw are currently running for the Republican nomination. Former U.S. Rep. Tom Rooney, R-Fla., a Trump critic, mulled over running back in April but has done little since then that shows he plans on getting in. Lee County Property Appraiser Matt Caldwell came close to defeating Fried last time out but he announced this summer that he won't run for agriculture commissioner in 2022.
In the meantime, Ryan Morales is running for the Democratic nomination while Palm Beach County Commissioner Melissa McKinlay is considering getting in the race. Despite being toppled by his caucus as their leader, state Sen. Gary Farmer, D-Ft. Lauderdale, is also a possible candidate.
With more than a year to go, it's too early to appoint Simpson as the frontrunner though he starts in the race in a strong position. Still, not every Senate president can balance leading the chamber with running for statewide office. While Jeff Atwater moved from Senate president to state CFO in 2010, Tom Lee and Mike Haridopolos proved less successful in their bids for statewide office.
Regardless, Simpson is off to a strong start and Trump's support puts him in a good position to win the Republican nomination, even if Rooney gets in the race.
Kevin Derby wrote this analysis. He can be reached at kevin.derby@floridadaily.com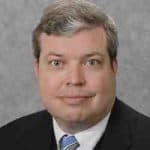 Latest posts by Kevin Derby
(see all)