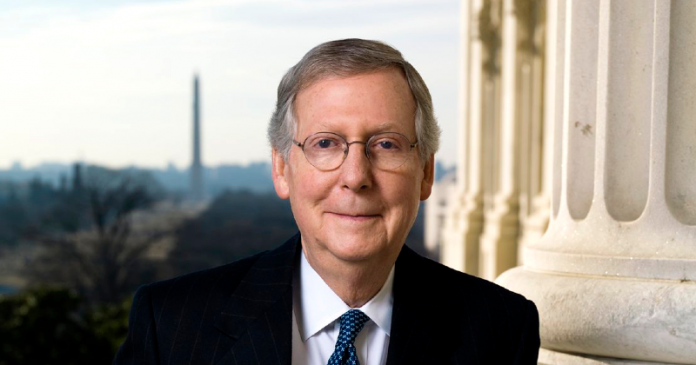 Senate Minority Leader Mitch McConnell is all that is left of what was once the Republican establishment. Sure, there are still some GOP voters who agree with McConnell, and he has like-minded lieutenants serving in the GOP Senate leadership alongside him. But there is a new MAGA establishment now that didn't exist two years ago when McConnell thought he was done with Donald Trump. It has taken over the House Republican conference and the Republican National Committee, and will dominate the upcoming 2024 presidential nominating contest. To put it nicely, McConnell is largely alone on an island in the Republican Party, an outcast.
And, after a midterm debacle that should have made him majority leader but didn't, McConnell doesn't seem to care. He stopped speaking with former President Trump more than two years ago. And it sure looks like he isn't interested in taking any calls from the rest of his party's top brass.
During Rep. Kevin McCarthy's historically chaotic election as speaker of the House, McConnell made headlines by appearing with President Joe Biden at an event to highlight the bipartisan infrastructure law, which McConnell supported. Celebrating a Biden accomplishment wasn't some rash decision; every choice and every last word of McConnell's are carefully calibrated. It was a stark contrast with McCarthy's international embarrassment, and a thumb in the eye of Trump and all his critics – mission accomplished for Mitch.
This week when asked whether he would be supporting Ronna McDaniels, who is facing a challenge in her reelection as chair of RNC, McConnell sniffed "I think they oughta be able to figure it out by themselves."
McConnell refuses to engage in speculation over whether the House Crazy Caucus will push the United States into our first ever default. "We won't default," he said Monday, as though he's already bored. On Tuesday he officially made it clear that Senate Republicans are out of the chaos business. "I can't imagine any debt ceiling provision passed out of the Senate with 60 votes could actually pass this particular House," he said. "So I think the final solution to this particular episode lies between Speaker McCarthy and the president." It looked like it was all McConnell could do not to bust out laughing and say "not my problem."
Had McConnell gotten what he wanted, and had GOP primary voters been focused on winning like he is, the debt ceiling high wire act would be his problem. But McConnell is serving in a Democratic majority because the voters of his party nominated too many clowns.
McConnell assumed that in a Republican year, when voters would punish an unpopular president and his party in the midterm elections, his party would clean up. He planned to convince great candidates to face off against Trump and challenge his influence in the 2022 GOP primaries, hoping that this year Doug Ducey, Chris Sununu, and David McCormick would be serving in the majority. But they're not. Several rational Republicans decided they weren't interested in becoming the focus of Trump's wrath and facing off against MAGA candidates in primaries. McCormick tried, but lost to Trump's pick – Dr. Mehmet Oz in Pennsylvania. Oz then lost. In Georgia, Trump chose Herschel Walker, and McConnell went along knowing it was stupid. Other establishment Republicans tried to win Senate and gubernatorial primaries, only to fall to MAGA candidates who also went on to lose.
So in primaries McConnell battled where he could against the extremists, and when MAGA voters nominated them, McConnell still tried bailing them out knowing swing voters wouldn't stomach them. McConnell spent far more than Trump on Senate nominees last year – $238 million to Trump's $14.8 million.
For his efforts, McConnell is a pariah on the right. Trump lambastes the "Old Crow" constantly on his social media site, and he has become particularly focused on using racist attacks against his wife, Elaine Chao, to further injure McConnell with the GOP base. Chao just responded to them for the first time Wednesday, saying the attacks say far more about Trump than they do about Asian Americans, after not one Republican had defended her against Trump's bigotry.
McConnell is already taking heat from his right wing foes because former Gov. Mitch Daniels is interested in the 2024 Indiana Senate race to replace retiring Sen. Mike Braun. Freedom Caucus member Rep. Jim Banks has already declared, and a primary battle between them would be incredibly divisive as they are prototypes of the old and new guard of the GOP. Radio host Mark Levin tweeted Tuesday: "I'll bet McConnell's behind recruiting yet another RINO dinosaur in Daniels. McConnell hates conservatives like Jim Banks."
Daniels may not run but if he does it will surely be with McConnell's blessing and support. And McConnell won't be tiptoeing around MAGA world or Trump this year.
While the map this year is a dream for Republicans – with ripe opportunities in red and purple states in at least eight races – McConnell wants every seat, no matter how many there are to spare. He has seen his party lose too many winnable races in 2010, 2012, and 2022. And he's had it.
Unlike the former chairman of the National Republican Senatorial Committee, Sen. Rick Scott, McConnell has an ally in charge. Scott didn't intervene in primaries, spent all the committee's resources before the critical fall stretch of the campaign, sucked up to Trump, and actively worked to undermine McConnell. New NRSC chair Sen. Steve Daines, sounds like someone ready to challenge extremists in primaries.
"I will tell you this. If I have heard one thing since the last election, a little over a month ago, Republicans are sick of losing, and we're gonna do whatever it takes to win. We want to make sure we have candidates that can win general elections," Daines told Fox News. "We're gonna do whatever it takes to make sure we have a Republican majority."
"Whatever it takes" means McConnell's patience has run its course. He doesn't care if Rep. Marjorie Taylor Greene calls him "Biden's bitch" again. He isn't going to try to rescue House Republicans while they walk into buzzsaws. And he isn't going to sweat Trump's assaults against him on Truth Social.
McConnell is going to defend his tiny island in the new GOP that wants to run it over, MAGA be damned.
A.B. Stoddard is associate editor and columnist at RealClearPolitics and a guest host on Sirius XM's POTUS Channel. This article was originally published by RealClearPolitics and made available via RealClearWire.
Latest posts by Guest Columnist
(see all)