A new candidate could be joining U.S. Rep. Charlie Crist, D-Fla., and state Agriculture Commissioner Nikki Fried in the Democratic primary to see who will take on Gov. Ron DeSantis in November 2022.
At the end of last month, both
Florida Politics
and
Politico
reported that
state Sen. Annette Taddeo
, D-Miami, is looking closely at entering the gubernatorial race.
Since then, Taddeo has been busy, appearing on
WPLG 10
's "This Week in South Florida" where she took aim at a new property insurance bill that DeSantis signed into law. She also looked to raise her profile at the end of last month by backing
St. Petersburg City Councilwoman Darden Rice
for mayor.
In the meantime, Taddeo is starting to send up trial balloons about making another bid for statewide office.
Last week, Taddeo's team shared an internal poll about the "current field of candidates in the race against Republican Ron DeSantis and his radical, right-wing agenda" and insisted "one thing is clear: the race for governor is wide open."
Taddeo's team insisted the poll showed their candidate doing well.
"It's not surprising that, when voters learned more about Annette and her proven track record of fighting for Floridians, she jumped from 13 percent of the vote share to 40 percent!  We know Annette has always been a champion for our Democratic values in Tallahassee, has successfully fought back against false accusations of socialism, and still won as a Democrat and a Latina in a tough swing district," Taddeo's team emailed supporters last week.
This week, Taddeo's team doubled down on that message, noting "when voters learned about Annette's proven record of collaborative, pragmatic, and solution-focused leadership, she jumped from 13 percent of the vote share to an incredible 40 percent, which gives her a double-digit lead over other candidates!"
Taddeo has had something of a roller-coaster political career in South Florida. In 2008, she ran against longtime U.S. Rep. Ileana Ros-Lehtinen, R-Fla., but was routed in the general election. Two years later, Taddeo came up short when she ran for a spot on the Miami Dade County Commission. Still, she bounced back in 2012 when she was selected to lead the Miami Dade Democrats, garnering high marks for her work. Crist picked her as his running mate in 2014 but they came up short against Scott. In 2016, Taddeo ran for Congress again but lost to former U.S. Rep. Joe Garcia, D-Fla., in a close primary. However, in 2017, Taddeo rebounded and won a special election for an open state Senate seat, easily dispatching former state Rep. Ana Rivas Logan, a former Republican, in the primary and edging Republican state Rep. Jose Felix Diaz in the general election. Taddeo kept her seat in 2018, beating Republican Marili Cancio.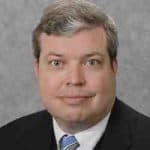 Latest posts by KEVIN DERBY
(see all)