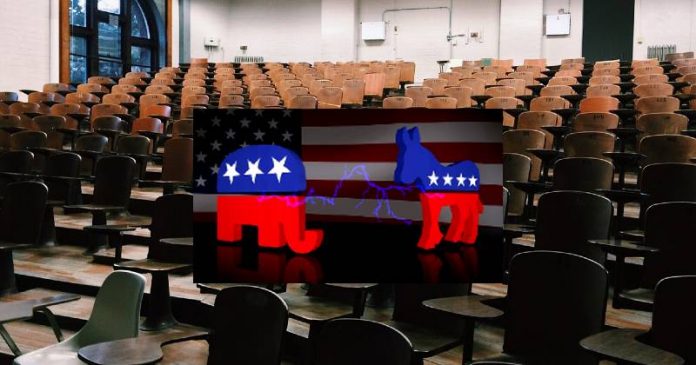 With Gov. Ron DeSantis leading in the polls over Democratic challenger former Gov. Charlie Crist, Florida Democrats are hoping the U.S. Supreme Court overturning Roe v. Wade will motivate college students to come out on Election Day.
Election data from 2020 showed that Joe Biden won nearly 60 percent of college-educated voters and college students and graduates have become part of the Democrats' base.
A new poll from NBC News/Generation Lab shows that this trend will continue in the future as liberal college students are increasingly becoming more partisan.
The poll of college sophomores shows 62 percent of Democrats surveyed say they would not share a room with someone who supported their political opponents, primarily supporters of former President Donald Trump. The poll shows 28 percent of Republican students say they would not share a room with someone who backed their political opponents.
Overall, more than half–54 percent–of college students say they would "definitely" or "probably" room with someone who supported the presidential candidate they opposed in 2020, while 46 percent said they would "probably not" or "definitely not."
This view doesn't surprise college conservative groups.
While this intolerance is outrageous, it's actually not surprising to anyone who has even set foot on a college campus recently, you have Democrats outnumbering Republicans two to one. You actually have as many independents as you have Republicans on campus," said Alexa Schwerha with Campus Reform.
More than half of those surveyed–53 percent–say they definitely or probably would not go on a date with a person who voted differently than them while 47 percent say they have no problem with going on a date with a person from a different political party.
That partisan divide grows when it comes to marriage, with 63 percent of college students saying they can't see themselves marrying someone backing the other party. Only 37 percent say they can see themselves marrying someone from a different political persuasion.
The same poll found most college Democrats don't support Biden running again in 2024.
While traditionally, college students are less likely to vote than most of the U.S. population, 72 percent of those surveyed say they "probably will" or are "absolutely certain" to vote in November.