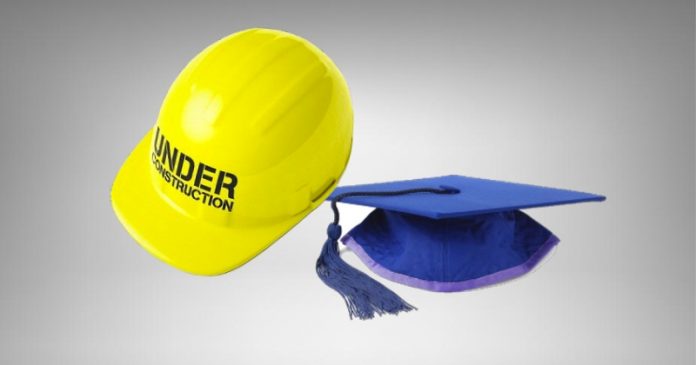 A new study by the National Student Clearinghouse Research Center (NSC) finds that fewer students are attending college and instead are enrolling into trade schools.
Trade schools through the U.S. are reporting a 40 percent increase, thanks to the expensive costs of college and strong demand for skilled workers.
NSC says some of the biggest schools seeing large increases include the agriculture, construction and transportation industries where they too are reporting increased enrollment up to 40 percent as tread schools entice new students.
Many of the programs are only requiring one year of training, with a low cost of just under $16,000, compared to a four-year college cost, on average, of around $100,000.
NSC noted another attractive incentive for students attending a trade school is they can be certified in their field in some cases less than six months which gets students immediately into the work environment.
The U.S. Labor Department announced that there were 11.5 million job openings and some trade schools are telling students because the demand is so high, workers looking to go from job to job, could see larger pay increases.
NSC's latest study showed higher education enrollment fell a further 2.7 percent in the fall of 2021 following a 2.5 percent drop in the preceding fall. Continued enrollment losses in the pandemic represent a total two-year decline of 5.1 percent or 938,000 students since the fall of 2019.
Undergraduate enrollment alone fell by 3.1 percent or 465,300 students the past year. Every institution sector saw undergraduate enrollment drops, with the largest numerical decline at public four-year institutions (251,400 students or -3.8 percent) and the steepest percentage decline at private for-profit four-year colleges (-11.1 percent or 65,500 students).
Community colleges saw smaller enrollment drops (-3.4 percent or 161,800 students) than in the previous fall, but the number of associate degree-seeking students enrolled at four-year institutions fell much more steeply compared to the previous year including -11.0 percent at public four-year, -6.2 percent at private nonprofit four-year and -11.9 percent at private for-profit four-year institutions.
Freshman enrollment stabilized following a precipitous decline in fall 2020, up about 0.4 percent or 8,100 students, primarily driven by freshmen number increases in private nonprofit four-year colleges.
However, far from recovering from last year's drop, the nation's fall 2021 freshman class was 9.2 percent smaller (or 213,400 fewer students) compared to pre-pandemic levels in fall 2019.
One factor that could be coming into play is the continued aging of America. The National Center for Education Statistics released a report in April 2018 showing the growth of high school students at the start of the century has cooled considerably. From 2001-to 2013, the U.S. saw the number of high school students grow by 20 percent. From 2013-to 2026, the U.S. is projected to see the number of high schoolers grow by 3 percent.