 Florida's theme parks have enjoyed strong attendance in recent months and there are several new attractions which could help both Disney World and Universal Orlando improve on their record-breaking 2018. Here are some of the new attractions that will attract visitors for the fall 2019 season.
Ghostbusters haunted house confirmed for Universal Halloween Horror Nights 
Universal Studios announced a Ghostbusters haunted house will be among the attractions at Halloween Horror Nights in 2019. Below is a statement from Universal Studios:
For the first time ever, Sony Pictures' classic film, Ghostbusters, is coming to "Halloween Horror Nights" at Universal Orlando Resort and Universal Studios Hollywood – bringing the most memorable scenes, characters and supernatural spirits from one of pop culture's most iconic films to life in immersive mazes based off the 1984 classic at the nation's premier Halloween events, starting this September.
Ghostbusters has entertained generations with its comedic yet frightening tale of four paranormal investigators on their quest to eradicate supernatural threats from creating chaos throughout New York City. As the film marks its milestone 35th anniversary, guests will have the unique opportunity to live the action and terrifying scares they have seen in the hit film when it comes to life at Universal Studios' "Halloween Horror Nights"
In each maze, guests will follow in the footsteps of the Ghostbusters – Peter, Ray, Egon and Winston – as they venture through artfully recreated scenes from the film, including the firehouse, New York Public Library and the Temple of Gozer, as an army of ghoulish spirits, hideous specters and ectoplasm-dripping phantasms attack from every corner.  As they delve deeper into the maze, guests will come face-to-face with an array of paranormal creatures, from the voracious Slimer to the all-powerful Gozer the Gozerian and in its ultimate destructor form – the Stay Puft Marshmallow Man, to brave the demonic spirits and survive the night.
Disney World Hiring Workers for New Skyliner Transportation System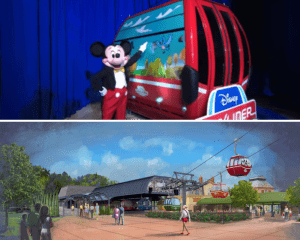 Disney World is hiring workers for the new Disney Skyliner, a gondola-style cable car that will debut at Walt Disney World Resort this September. Offered as an alternative to the monorail and bus system, the Skyliner will transport guests to Disney's Hollywood Studios, Epcot and four Walt Disney World Resort hotels, including Disney's Art of Animation Resort, Disney's Pop Century Resort, Disney's Caribbean Beach Resort and the new Disney's Riviera Resort.
"Disney Skyliner Cast Members are responsible for greeting guests, loading and unloading cabins, monitoring and operating the gondola system, delivering narrations of varying lengths and providing audience control, while always ensuring our guest and cast member's safety," Disney notes in its postings to hire workers.
Central Florida Zoo & Botanical Gardens Earns "Sensory Inclusive" Certification
The Central Florida Zoo & Botanical Gardens has partnered with KultureCity, a non-profit organization focused on creating welcoming and inclusive environments for individuals with unique abilities, to become a certified sensory inclusive facility.
According to the Sanford Regional Chamber of Commerce, members of the zoo's staff and volunteers were trained to recognize guests with sensory needs and how to approach a sensory overload situation. Sensory sensitivities are often experienced by individuals with developmental challenges, autism, PTSD, anxiety, and more.
Sensory bags will be available at the zoo's admissions window and are equipped with noise-canceling headphones, cue cards, fidget tools, and other resources. Signage will be posted throughout the zoo indicating potentially high-noise areas, as well as designated quiet areas for individuals who need to take a break.
Universal's Endless Summer Resort Opens in Orlando

Universal's Endless Summer Resort – Surfside Inn and Suites – opened its doors to guests as the park's first value category hotel. The 750-room hotel is Univeral's seventh property in partnership with Loews Hotels & Co., giving guests a resort hotel experience with rates starting as low as $73 per night for a seven-night stay.
SeaWorld Orlando Proudly Welcomes Whiskered Baby Walrus
SeaWorld Orlando's animal care and veterinary teams announced the birth of a 150-pound, female Pacific walrus calf on July 3, to mom Kaboodle and dad Garfield. This is 16-year-old Kaboodle's second calf and the second calf born at SeaWorld Orlando.
"I am incredibly proud to watch our teams in action as they provide world-class care for Kaboodle and her calf," said Gus Antorcha, the CEO of SeaWorld Parks. "Our talented veterinarians and animal experts gave the best in prenatal care for Kaboodle, and now ongoing, round-the-clock care of mom and calf."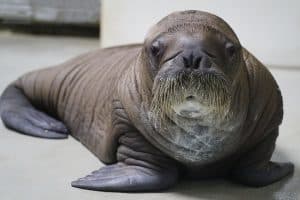 SeaWorld's walrus program plays an important role in educating and inspiring the public about these threatened animals and what we can do to help. In SeaWorld's 55-year history of animal care, only four walrus calves have been born. With this birth there are now 18 walruses living in six zoological facilities in the United States, giving the public the chance to see these animals up-close and learn how human activities impact their survival, as well as offering scientists and researchers the ability to better understand walrus biology that may be impossible to study in the wild. With the permission of the U.S. Fish and Wildlife Service, SeaWorld Orlando has raised 10 orphaned walrus calves throughout the past 50 years, including the new calf's father, Garfield.
"Our team is incredibly proud of the birth of this walrus calf — only the second ever at SeaWorld Orlando, and the team is providing around-the-clock care to monitor the health of both calf and mom," Dr. Stacy DiRocco, a senior veterinarian at SeaWorld Orlando, said "Being able to share this story with our guests and the public is extraordinarily gratifying. Walruses need our help, and ambassadors like Kaboodle, her newborn calf and our Wild Arctic population help to tell an important story."
Kaboodle and her calf remain behind the scenes during these first important weeks as the baby continues to gain weight and learn to swim. Guests to the park can still see the other residents of Wild Arctic, including more walruses and beluga whales.
Disney's Star Wars "Rise of the Resistance" ride to debut in Florida Before California
Disneyland enjoyed the debut of Star Wars Galaxy's Edge, but visitors at DisneyWorld will get the first chance to experience Star Wars: Rise of the Resistance. According to Disney, the Rise of the Resistance ride will open at Disney World on December 5; but Disneyland's version will open several weeks later on January 17 The opening of Rise of the Resistance will coincide with the theatrical release of "Star Wars: The Rise of Skywalker," the final chapter of the current Star Wars trilogy.
Latest posts by News Desk
(see all)