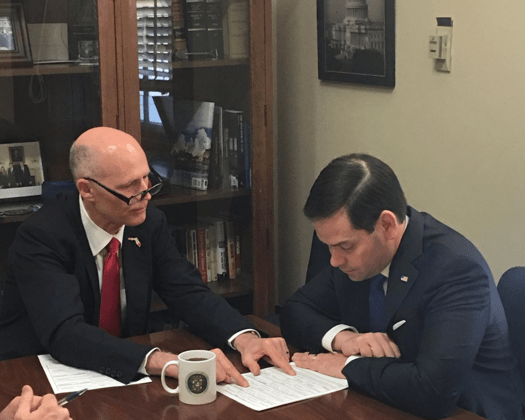 Both of Florida's two Republicans in the U.S. Senate–U.S. Sens. Marco Rubio and Rick Scott–signed a letter from U.S. Sen. Ben Sasse, R-Neb., and U.S. Senate Minority Leader Chuck Schumer, D-NY,  urging the U.K. Parliament to reconsider the Johnson government's decision to allow Huawei to supply some of the United Kingdom's 5G telecommunications structure.
On Wednesday, the House of Commons is expected to take up debate on the security implications of the United Kingdom's Huawei decision. In January, Prime Minister Boris Johnson announced that Huawei will be allowed to supply up to 35 percent of the United Kingdom's 5G communications infrastructure, despite the significant security concerns related to Huawei.
The full text of the letter is below.
Dear Members of the House of Commons:
We write to express our significant concern with the Government of the United Kingdom's recent decision to allow Huawei Technologies in its 5G network infrastructure. Given the significant security, privacy, and economic threats posed by Huawei, we strongly urge the United Kingdom to revisit its recent decision, take steps to mitigate the risks of Huawei, and work in close partnership with the U.S. on such efforts going forward.
Notably, the U.K. government itself has warned that Huawei's telecommunications equipment raises "significant" security issues. Through China's patchwork of vague intelligence, national security, and cybersecurity laws, Chinese companies are compelled to support and cooperate with the Chinese Communist Party's intelligence-gathering authorities. Without an independent judiciary to review requests made by the government for data and other actions, there is no legal mechanism for these companies to appeal if they disagree with a request.
We acknowledge the U.K. National Cyber Security Centre's designation of Huawei as a "high-risk" vendor, as well as the imposition of certain limits on the company's operations. However, the U.K. government's action to curb the activity of high-risk entities like Huawei will not go far enough to mitigate the full landscape of serious security threats. It is our understanding that the security and privacy risks surrounding Huawei technology cannot be effectively mitigated because of the unique software dependencies of 5G. While banning companies like Huawei from the U.K.'s "core" 5G network infrastructure may address some security threats, in practice it could prove very challenging, if not impossible, to separate "core" equipment from that considered to be on the periphery.
As you may be aware, the United States government has moved to curtail Huawei's operations within U.S. telecommunications networks. In 2018, the U.S. banned Huawei from use by the government and government contractors, and last year, the U.S. Department of Commerce added Huawei to its "Entity List," effectively barring U.S. companies from selling components to Huawei without an export license. However, we acknowledge that additional policy action must be taken to secure our information and communications technology supply chains and eradicate Huawei from our network infrastructure.
We understand the challenges the U.K. faces regarding a lack of diverse, secure, and affordable suppliers. These are challenges we also face here in the United States. However, the security and integrity of our telecommunications infrastructure cannot be compromised for convenience. We therefore ask for commitments from our respective governments – along with trusted partners such as Canada, Australia, New Zealand, Japan, and European allies – to work together to advance a comprehensive strategy to secure our 5G systems, which includes:
Devising a comprehensive phase-out strategy to remove Huawei and other high-risk vendors that pose national security threats from our network infrastructure, as well as developing a clear process for identifying trusted alternative suppliers;
Furthering policies to invest in and bolster our domestic telecommunications supply chains, such as supporting research in 5G-related technologies, establishing programs to remove Huawei and other high-risk equipment from telecommunications networks, among other proposals; and
Facilitating greater information sharing on risks and threats between partner countries.
More specifically, we request continued engagement with relevant U.K. national security, intelligence, and technology experts within the government and private sector to discuss the potential risks of including Huawei in 5G network infrastructure, as well as how these risks can be mitigated, at your earliest availability.
We thank you for your consideration of this critical issue, as well as for the trusted partnership between our governments which we remain committed to uphold.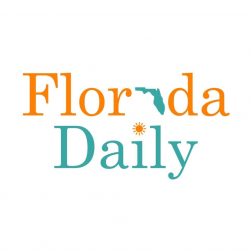 Latest posts by Florida Daily
(see all)