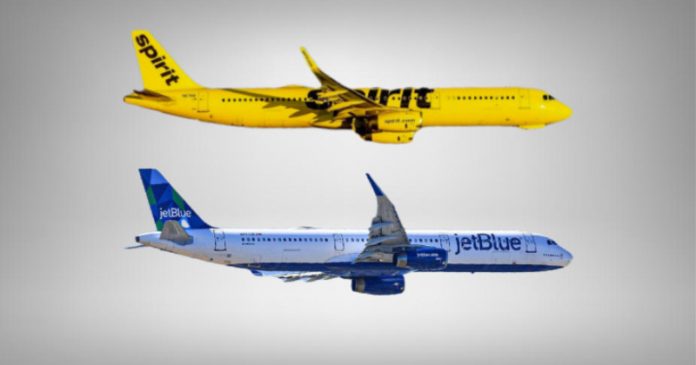 In July 2022, JetBlue and Spirit Airlines announced a merger agreement. Under the agreement, JetBlue would acquire Spirit Airlines for $3.8 billion. The merger would create a highly competitive national low-fare challenger to the "Big Four" airlines that control about 80 percent of the market today: American, United, Delta and Southwest.
Since the announcement, the merger has been met with support from stakeholders across the country, but it's also been met with challenges, notably from the U.S. Departments of Justice (DOJ) and Transportation. In March 2023, the discourse surrounding the merger finally came to a head when the DOJ filed a civil antitrust lawsuit to block the proposed merger. If successful, this lawsuit could slow JetBlue's expansion plans and its efforts to deliver lower fares to more consumers.
Throughout all the commotion over the last nine months, elected officials, stakeholders and organizations across Florida have demonstrated their strong support for the merger, recognizing the many economic and community benefits it would provide the state. Numerous letters of support have been written by Florida leaders: from state legislators, to city commissioners, to local chambers of commerce. Suffice to say, Floridians want to see this merger be successful.
JetBlue's Commitment to Florida
You don't have to look too far into JetBlue's track record to understand why Florida has shown an outpouring of support for the merger. JetBlue has a long-standing partnership with Florida and its airports, operating hundreds of flights per day at Fort Lauderdale – Hollywood International Airport (FLL) and Orlando International Airport (MCO).
While the flights to and from FLL and MCO help drive tourism in the state, JetBlue goes a step further in investing in the local economy by hosting its training and manufacturing facilities here. JetBlue has built its presence at the FLL-based JetBlue Travel Products, as well as at its training facility at MCO, known as "JetBlue University." These investments in Florida will create a more diverse and high-quality workforce, while attracting much-needed talent in the technology and aviation sectors.
Beyond the plans already set in motion by JetBlue, Florida Attorney General Ashley Moody has secured more growth for the state. Moody and JetBlue have agreed that upon completion of the merger, JetBlue will provide "at least 1,000 new jobs to South Florida, at least 500 new jobs to the Orlando region, and at least 500 new jobs to support JetBlue's expanded operations at airports throughout Florida," according to Moody's official press release.
JetBlue has also promised to extend its "no furlough" policy to Spirit and retain all the company's team members. In addition, JetBlue plans to increase the number of daily flights at MCO and FLL, expanding to new routes and markets. With these plans in place, Florida residents and travelers alike will benefit from a strengthened JetBlue presence in the state. However, these plans may come to a screeching halt pending the outcome of the lawsuit filed by the DOJ.
DOJ Maintains the Status Quo?
The DOJ's decision to file an antitrust lawsuit against the merger begs the question: How does this action address concerns that the airline industry is becoming further concentrated?
JetBlue's merger with Spirit would create a long overdue fifth national competitor to the "Big Four" airlines. Today, four airlines each control about 16-24 percent of the domestic air travel market, while a combined JetBlue and Spirit would control less than 10 percent. This merger could be a much-needed foot in the door for a low-fare airline to compete with legacy airlines and pressure them to lower prices. If expanding consumer choice and ending consolidation among the biggest airlines is what the DOJ is looking to do, the lawsuit could be a critical misstep.
It's worth noting that the administration's blanket outlook on mergers is short-sighted and negatively impacts consumers across the country. This decision is not a holistic view and fails to account how the merger could bring significant economic gains for communities of all sizes, including those in Florida. Customers are always looking for more flight options, lower ticket prices, and a better flying experience. The JetBlue-Spirit merger is designed to expand the supply of the type of flying experience customers want, but the government is standing in the way.
Federal decision makers have unfortunately taken a broad antitrust stance and are challenging this merger without looking at its merits. This merger is a choice – a choice between maintaining the status quo in air travel, or creating more competition that will benefit consumers, communities, and the country.