At the end of last week, U.S. Rep. John Rutherford, R-Fla., announced he would be the main co-sponsor of U.S. Rep. Josh Gottheimer's, D-NJ, proposal offering "targeted investments in local police departments and ensure that police officers in smaller communities across the country have the resources and training they need to keep themselves and their communities safe."
Gottheimer brought out the "Invest to Protect Act" on Thursday with the backing of almost 40 co-sponsors including Rutherford, a career law enforcement officer who served three terms as sheriff of Duval County. U.S. Reps. Val Demings, D-Fla., and Stephanie Murphy, D-Fla., are also co-sponsoring the proposal.
"Cutting to the bone only weakens any profession; it pushes good people out, it diminishes the overall quality, and fuels a race to the bottom. That's especially true in law enforcement. The only way to make a department better is to invest wisely, in training and tools, in recruiting and retaining the best talent, and ensuring they can be involved in the community. That's how you keep families safe. In short, when it comes to law enforcement, you need to invest to protect," said Gottheimer. "This legislation sends an important message: we want our police officers to feel supported, especially when they are struggling with the realities of their profession. We want them to know that we have their backs and that they are appreciated for the job they do."
"Small police forces in rural areas often suffer from a lack of operational equipment and services," said Rutherford on Friday "That's why we introduced the Invest to Protect Act, which creates a grant program for departments with fewer than 200 officers to support critical resources like body cameras, training, retention, and mental health care. Thank you to my colleague, Rep. Gottheimer, for leading on this important legislation."
The bill launches a federal grant program for police departments with less than 200 officers including training, body-worn cameras, data storage and security, mental health resources and assistance for recruiting new officers.
The bill was sent to the U.S. House Judiciary Committee last week. So far, there is no companion measure in the U.S. Senate.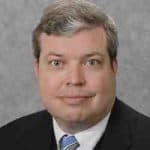 Latest posts by Kevin Derby
(see all)