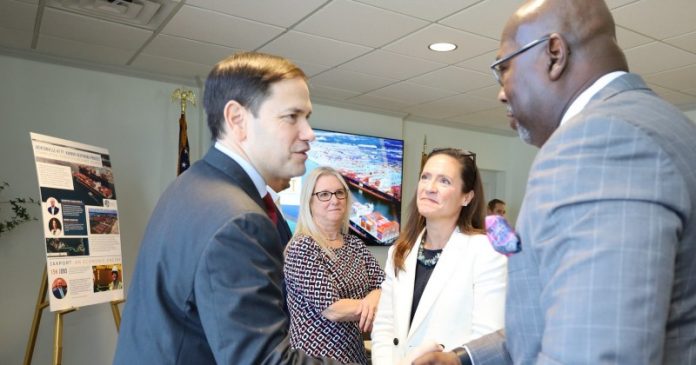 During his Monday visit to the Jacksonville Port Authority, U.S. Sen. Marco Rubio, R-Fla., was questioned about the difficulty commercial airlines are experiencing delivering passengers on time to airports across Florida.
The root cause lies in growing competition from the space industry, which holds launches from the east coast with increasing frequency, not to mention private aviation, which surged in popularity during the pandemic as Florida became the most active state for private aircraft.
"It's a real challenge… every other day now there is a launch or at least three times or four times a week… that's an FAA [Federal Aviation Administration] management issue," Rubio said.
Rockets shot into the atmosphere are becoming a fact of life for many residents and fliers, with dozens of significant launches planned during the course of 2022.
Their impact cannot be underestimated. For every single rocket, up to hundreds of miles of airspace must be closed to protect any transiting aircraft from falling debris or a more dramatic failure. As a sheep farmer in Australia discovered earlier this month, cast-off pieces of a rocket can end up in the unlikeliest of places, far from the original flight path.
For airlines, these changes result in delays or cancellations for hundreds, if not thousands, of travelers in an already challenging environment.
Any shifts in schedule are not only limited to their impact in south Florida but also result in a spillover effect around the country, with planes and crews struggling to catch up. As multiple sources have noted, Florida is performing worse than nearly every other locale in the United States in terms of delays and cancellations.
The flying public will look to the FAA and NASA for potential fixes on the horizon, but, in the meantime, there appears to be no relief in sight.