Quinnipiac University released a poll of Florida voters on Wednesday which shows U.S. Sens. Marco Rubio, R-Fla., and Rick Scott, R-Fla., are above water with voters.
Rubio, who is up for a third term in 2022, is approved by 49 percent of those surveyed while 38 percent disapprove of him. Most Republicans–82 percent–approve of Rubio while most Democrats–71 percent–disapprove of him. Rubio is in solid shape with independents with 45 percent of them approving of him and 37 percent disapproving of him.
"Rubio gets decent numbers from voters heading into 2022, but is just shy of the more comfortable 50 percent mark," said Quinnipiac University Polling Analyst Tim Malloy on Wednesday.
Asked if Rubio deserves a third term, 47 percent of those surveyed say yes and 41 say no. Most Republicans–77 percent–say Rubio should be reelected while 74 percent of Democrats say he does not deserve a third term while 46 percent of independents say Rubio deserves another shot while 40 percent say he does not.
Among the candidates running for the Democratic nomination to challenge Rubio are U.S. Rep. Val Demings, D-Fla., former U.S. Rep. Alan Grayson, D-Fla., Miami City Commissioner Ken Russell and public policy leader and former congressional candidate Allen Ellison. Boynton Beach Mayor Steven Grant is running with no party affiliation and former congressional candidate Dennis Misigoy is running as a Libertarian.
Halfway through his first term after eight years as governor, Scott is approved by 42 percent of those surveyed while 40 percent disapprove of him. Most Republicans–74 percent–approve of Scott while 68 percent of Democrats disapprove of him. Scott is upside down with independents as 42 percent disapprove of him while 34 percent approve of him.
The poll of 889 self-identified registered voters in Florida was taken from August 17 through August 21 with a margin of error of +/- 3.3 percent.
Reach Kevin Derby at kevin.derby@floridadaily.com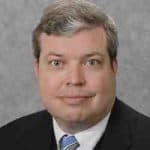 Latest posts by Kevin Derby
(see all)