 Barry University in Miami has turned to Dr. Mike Allen, the vice president of student affairs at Catholic University in Washington, D.C., to be its seventh president. Allen will take over at Barry at the start of July.
"Allen will become the first man and lay person to lead Barry University since its founding in 1940. Featuring two colleges and six schools, the university has a student enrollment of more than 7,000. He succeeds Sister Linda Bevilacqua, OP, Ph.D., who has served as Barry's president since 2004 and will become President Emerita effective July 1. Bevilacqua announced her retirement in June 2018," Barry noted on Monday.
"It is with great pride, joy, and excitement that I have the special privilege to introduce to the Barry University and South Florida communities Michael S. Allen, Ph.D., as Barry's next president. Mike brings all the elements of leadership, character, service, and caring that our board was looking to find in an ideal candidate," said John Bussel, the chairman of Barry's Board of Trustees. "Known as a strategic, visionary and creative thinker, Mike's knowledge of and commitment to Catholic higher education and his engaging and dynamic approach to people and issues will lead and inspire Barry students, faculty, staff, alumni, and friends as we strive to better ourselves and each other. Mike is inheriting the extraordinary, mission-driven legacy of Sister Linda Bevilacqua, OP, Ph.D., and her five Adrian Dominican predecessors. His demonstrated commitment to a culture of concern for others and his inclusive and welcoming nature will ensure that Barry's commitment to learn, reflect and serve will forever remain at our core."
"A seasoned higher education administrator with more than 25 years of experience, Allen has a deep commitment and proven track record of contributing to students' development, well-being and success," the university noted. "As vice president of student affairs at Catholic University, Allen serves as a member of the senior leadership team at the university, providing guidance and recommendations for all matters related to student experience, with close collaboration on enrollment, academic, fundraising, and capital project initiatives."
Allen has a long tenure in higher education administration, including working for two decades before rising to his current post, including  eight years at Catholic University as an associate vice president and director of athletics. He also worked in the Sunshine State before, serving at Florida Atlantic University.
On Monday, Allen, who attended Trinity College in Hartford before going to the University of Connecticut for his doctorate, weighed in on his new role.
"I am honored to be named the seventh president of Barry University. During the presidential search process, I have been overwhelmed with appreciation for the values that anchor and define this university community," Allen said. "It is abundantly clear that the students, faculty, staff, and alumni embrace the values associated with the university's mission and core commitments."
Allen also praised Sister Linda Bevilacqua who is moving on to serve as president emeritus of Barry.
"I pledge during my time as president to continue the inspiring work of Sister Linda, who has led the university to unprecedented levels of growth and success during her tenure. As president, I will always be cognizant that our students are the epicenter of our community. They are the reason we come together in this space and they are our greatest hope for a promising future. I can't wait to get started," Allen said.
Founded in 1940 by the Adrian Dominican Sisters, Barry offers more than 100 undergraduate and graduate degree programs with a student body of more than 7,000.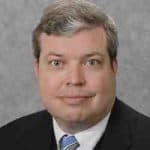 Latest posts by Kevin Derby
(see all)