In 2012, U.S. Rep. Dan Webster, R-Fla., narrowly defeated former Orlando Police Chief Val Demings and they clashed last week on President Joe Biden's new executive orders on guns.
Last week, the White House announced that the U.S. Department of Justice will crack down on homemade guns without serial numbers–often called "ghost guns," braces used to stabilize pistols and offer states a model to create red flag laws. Biden also said he would nominate gun control advocate David Chipman to lead the Bureau of Alcohol, Tobacco and Firearms (ATF).
Demings had strong praise for Biden's actions.
"Guns in the wrong hands kill innocent people, including innocent civilians, law enforcement officers, and their own holders. 2020 was the deadliest year for gun violence in decades, and I am sick and tired of watching our children, parents, neighbors, police officers, and friends gunned down in needless acts of violence. President Biden's orders are measured, evidence-based, and carefully targeted. They will crack down on gun trafficking, ghost guns, and gun modifications that make mass shootings more deadly. They will help local law enforcement remove guns from volatile situations before violence can erupt. Simply put, they will save lives," Demings said on Thursday.
"I continue to support comprehensive legislative solutions to keep guns out of the wrong hands. We recently passed legislation I cosponsored to close the loopholes in our background check system, and we will follow up on these executive orders with additional legislation. However, GOP obstruction in the Senate has been a longstanding obstacle to even the most basic and common-sense measures, so I am grateful that President Biden is acting swiftly to do what he can to save lives," she added.
On Friday, Webster pushed back against the White House.
"Along with a litany of other Mike Bloomberg supported gun control proposals, President Biden announced he has directed the DOJ to issue rulemakings that will create overnight felons of millions of law-abiding gun owners by redefining what is, and what is not a pistol," Webster said. "The language passed by Congress and signed into law decades ago is clear on this matter. The Bureau of Alcohol, Tobacco, Firearms and Explosives (BATFE) does not have the authority to redefine what is already clearly stated in law.
"While I will hold further action until I can review DOJ proposals, I will vigorously oppose any attempt by the Biden Administration and BATFE to subvert the plain language of the law and further infringe on law-abiding American's Constitutional right to keep and bear arms," he continued before turning his focus on Chipman.
"President Biden also announced the intent to nominate Waco-siege BATFE agent turned gun-control advocate, David Chipman for the position of BATFE director. Mr. Chipman is an unabashed gun-grabber who wants to ban the most commonly owned rifle in the nation. He has also publicly lied about what happened during the botched Waco siege and separately recommended people hide their guns 'behind cans of tuna and beef jerky that gets stored in their cabinet.' The BATFE Director must be an individual who will respect our Constitutional rights and focus on getting guns out of the hands of gang members, criminals, or anyone who tries to illegally obtain a firearm," Webster added.
Webster beat Demings 52 percent to 48 percent in 2012 in a surprisingly close race. After the latest round of congressional redistricting, the district, now including parts of Orange County, became far more palatable for Democrats. Webster packed his bags to run for an open seat up north while, despite some respectable opposition in the primary, Demings ran over her rivals to win his old seat.
Reach Kevin Derby at kevin.derby@floridadaily.com.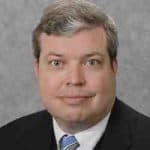 Latest posts by Kevin Derby
(see all)