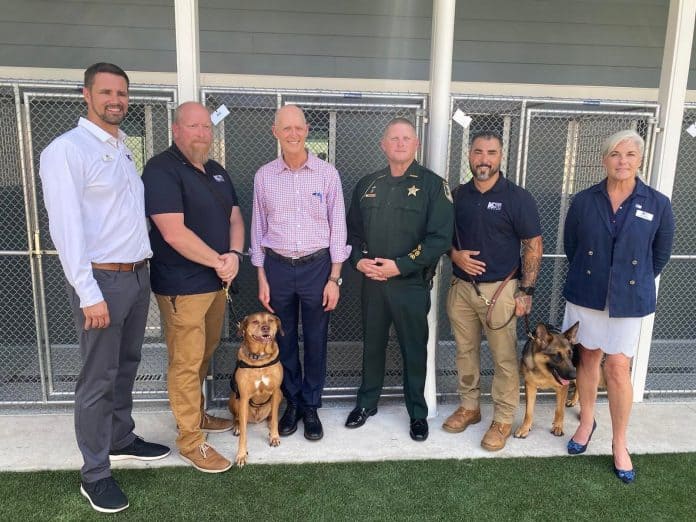 This week, U.S. Sen. Rick Scott, R-Fla., visited K-9s for Warriors in Ponte Vedra Beach "to tour the organization's facility and thank the volunteers and leadership for their efforts to support our American heroes."
"I was proud to visit K-9s for Warriors today, an incredible organization with great leadership and volunteers who are fully committed to helping our veterans, especially those suffering from PTSD, transition to civilian life with the support of professionally-trained service dogs. Our veterans truly represent the best of what it means to be an American and none of the opportunities and freedoms we have would be possible without the dedicated service of these brave heroes. As governor and now as U.S. senator, I'm committed to making sure Florida is the most military and veteran friendly state in the nation, and organizations like K-9s for Warriors are helping us accomplish this goal by serving those who have so selflessly served our nation," Scott said.
Jacksonville City Councilman Rory Diamond, CEO of K-9s For Warriors, thanked Scott for his support.
"We sincerely appreciate U.S. Senator Rick Scott's support of our mission to end veteran suicide. He has been a champion of our organization since his time as governor of Florida, and we look forward to his continued dedication to our nation's heroes."
Scott's office noted that K-9s For Warriors "is the nation's largest provider of trained Service Dogs to military veterans suffering from PTSD, traumatic brain injury and other trauma."
In February 2021, U.S. Rep. John Rutherford, R-Fla., brought back the "Puppies Assisting Wounded Service members (PAWS) Act."
The bill will increase access to Service Dogs for veterans with post-traumatic stress disorder (PTSD)" by creating a "competitive grant program through the Department of Veterans Affairs for organizations, such as K9s for Warriors in Ponte Vedra, to pair service dogs with veterans suffering from PTSD." The grants will not exceed $25,000.
Rutherford has reined in more than 40 cosponsors including U.S. Reps. Scott Franklin, R-Fla., Matt Gaetz, R-Fla., Al Lawson, D-Fla., Stephanie Murphy, D-Fla., Bill Posey, R-Fla., Maria Elvira Salazar, R-Fla., Greg Steube, R-Fla., and Michael Waltz, R-Fla.
"Research from the VA has concluded that Service Dogs are a proven therapy for those suffering from PTSD," said Rutherford when he introduced the bill. "With twenty veterans taking their own lives each day, we must do more to help those with PTSD and other service-connected forms of trauma. I am proud to reintroduce the PAWS Act to help our warfighters lead productive and successful lives once they return to civilian life."
"Congress has an obligation to do all it can to help veterans returning from overseas deployments who suffer from PTSD," said Waltz. "By partnering with organizations to pair service dogs with veterans, we will save veteran lives and canine lives. The partnership provides solutions that are scientifically proven to improve PTSD symptoms."
"For many of our returning veterans, often we see that the battle on the frontlines has turned into an inner battle at home," said Lawson. "Our servicemen and women sacrifice so much for our freedom, and we must do our part to assist those dealing with invisible illnesses. Through the PAWS Act, these trained service dogs will help our nation's heroes with their mental wellness and make transitioning from active duty to civilian life an easier feat."
U.S. Sen. Deb Fischer, R-Neb., introduced the Senate companion in March 2021 with eight co-sponsors, including U.S. Sens. Bob Menendez, D-NJ, Marco Rubio, R-Fla., Scott and Elizabeth Warren, D-Mass.
"We are deeply indebted to the veterans who fought for our freedoms," Fischer said when she introduced the bill. "For veterans suffering from the invisible wounds of war, service dogs have been shown to provide comfort, hope, and companionship. The PAWS Act would pair more of these men and women with service dogs as they reintegrate into civilian life."
"We can never repay the debt we owe to our nation's veterans, but we can ensure that they have access to the resources they need to help them live comfortable post-service lives," Rubio said. "Service dogs have proven to be effective in managing post-traumatic stress disorder and can provide veterans with a sense of confidence, security, and independence. I am proud to support this legislation that would ease the post-service lives of our nation's veterans."
"Our veterans have dedicated their lives to serving our nation, many times at great personal sacrifice, and they deserve every chance to live full and happy lives after their service to our nation. Our bill, the Puppies Assisting Wounded Service (PAWS) Members Act, helps connect our veterans with a service dog, and friend, to provide the support, love and connection they need after their active duty. I'm proud to introduce this bill today and will always work to support our brave American heroes," said Scott.
"Making Service Dogs more accessible to veterans will ultimately empower our nation's heroes to successfully reintegrate into civilian life," said Diamond when Rutherford introduced the bill. "The PAWS Act would commit considerable resources towards properly training and pairing Service Dogs with veterans who would most benefit from them. We thank Congressman Rutherford for his continuing dedication to our nation's veterans with the introduction of this bill."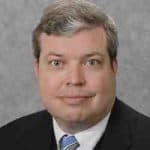 Latest posts by Kevin Derby
(see all)