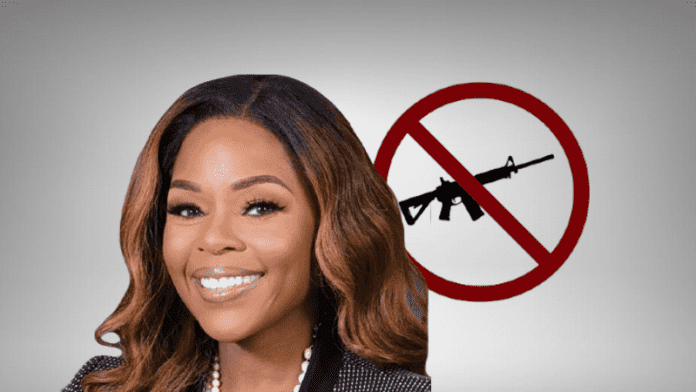 With the primary now behind her, U.S. Rep. Shelia Cherfilus-McCormick, D-Fla., is running for a full term in her own right and is showcasing her support for gun control proposals.
Cherfilus-McCormick replaced longtime U.S. Rep. Alcee Hastings, D-Fla.. who died in April 2021. In the special election held at the start of the year, she took 79 percent of the vote while Republican Jason Mariner got 19 percent, Libertarian Mike ter Maat garnered 1 percent and two candidates–Jim Flynn and Lenny Serratore–who were both running with no party affiliation–each pulled around .5 percent.
The Democratic primary in that special election, which was held at the end of last year, proved close. After several recounts, Cherfilus-McCormick prevailed over Broward County Commissioner Dale Holness and a large crowd to win the Democratic nomination. After recounts were finished and with all votes in, Cherfilus-McCormick beat Holness by five votes–11,662–23.76 percent–to 11,657 votes–23.75 percent.
Cherfilus-McCormick and Holness met in a rematch in last month's primary with very different results. The congresswoman won 65.5. percent of the primary vote with Holness way behind at 28.7 percent.
Looking ahead to the general election, this week, Cherfilus-McCormick doubled down on her support of gun control proposals.
"Gun violence is a tragedy that strikes every community and weighs on the heart every American. We cannot stand by and watch more innocent Americans lose their lives," said Cherfilus-McCormick."I am proud to work for safer communities, putting people over politics with commonsense reforms to keep guns out of the hands of dangerous people."
Noting that "on average, 2,849 Floridians die from gun violence and 5,267 are injured by guns each year," the congresswoman pointed to her support of expanded background checks, raising the age to buy semi-automatics from 18 to 21, expanded red-flag programs and banning "military-style weapons, such as AR-15s, and high-capacity ammunition magazines that have been used in many mass shootings." She also stressed the partisan differences between the two parties on the issue.
"Extreme MAGA Republicans continue to oppose life-saving gun violence prevention legislation at every turn, siding with the gun lobby – not the vast majority of Americans who support laws, like universal background checks, that would help prevent these recurring tragedies," the congresswoman's office noted.
Cherfilus-McCormick is a heavy favorite to win in her solidly blue district in South Florida. Standing in her way is businessman Drew Montez Clark who was bested by Lauren Melo in a Republican state House primary in 2020. Clark has reeled in the endorsements of Gen. Michael Flynn and Florida Family Action and, in his campaign website, stressed his support of the Second Amendment.
"The primary function of the Second Amendment does not exist for the purpose of hunting nor to protect us against our neighbors. Its primary function is to protect 'We The People' from a tyrannical government. That means that whatever the government has access to, we should have access to. I also take the Second Amendment literally when it says 'shall not be infringed upon'. If you would like an example of what a free society looks like without the Second Amendment, look no further than Australia," Clark's website notes.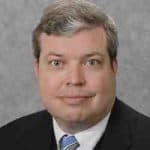 Latest posts by Kevin Derby
(see all)